Movie/tv News
10 Famous Directors That Got Their Start In Music Videos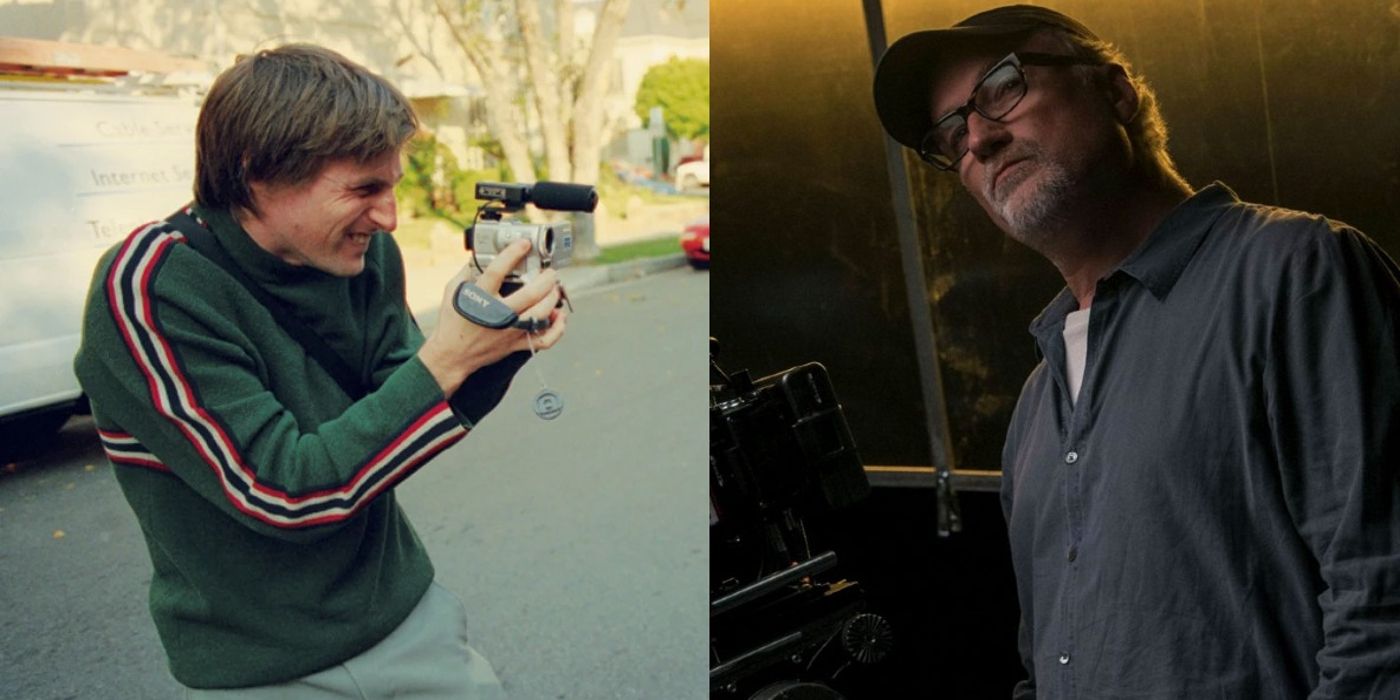 Music videos have long been a fertile breeding ground for young film directors to hone their craft. In fact, some of the most well-known movie directors began their careers by forging their visual style and storytelling techniques across several music videos, which essentially function as short film calling cards for Hollywood to take notice. The more videos they direct, the more prepared they often become to tell a much longer story on the big screen.
From indie auteurs and mainstream filmmakers alike, fans might be surprised by the number of lauded film directors who cut their teeth making music videos early in their careers.
David Fincher
Hailed as one of the finest directorial technicians of the past 30 years, David Fincher spent eight years working on music videos before making his feature debut with Alien 3 in 1992. The three-time Oscar-nominated director of Se7en, Fight Club, and others worked with the biggest names in the music industry, including Madonna, Aerosmith, Paula Abdul, and Billy Idol.
RELATED: 10 Music Videos Directed By Famous Filmmakers
Among his most memorable music videos, Fincher directed Aerosmith's "Janie's Got a Gun" in 1989, a vividly cinematic affair every child who grew up watching MTV will remember. He also helmed Madonna's "Vogue" and Paula Abdul's "Straight Up," two distinguished black-and-white videos that pushed the envelope and paid dividends when Fincher helmed Mank in 2020.
Spike Jonze
Before he directed such wonderfully imaginative theatrical films as Her, Being John Malkovich, and Adaptation, Spike Jonze made some of the all-time best music videos on record. They include Weezer's "Buddy Holly" and "Undone: The Sweater Song," Beastie Boy's "Sabotage," Fatboy Slim's "Weapon of Choice," and countless others.
With multiple music videos also directed for Pharcyde, Sonic Youth, R.E.M., Bjork, The Chemical Brothers, and more, Jonze spent a full decade from 1991 to 1999 developing his eclectic storytelling style across a wide range of musical genres that continue to inform his cinematic aesthetic. With four feature narrative films to his name so far, Jonze has spent far more time in his career helming music videos.
Antoine Fuqua
In the 20 years since delivering the powerhouse crime movie Training Day, director Antoine Fuqua has steadily risen to be one of the most active and talented filmmakers in Hollywood. But before helming The Equalizer franchise, The Maginifenct Seven, and The Guilty, Fuqua spent the first decade of his career working with the biggest R&B artists in the world.
Indeed, Fuqua directed such iconic music videos for Prince's "The Most Beautiful Girl in the World," Toni Braxton's "Another Sad Love Song," and many others. However, Fuqua's biggest music video success came via Coolio's smash hit "Gangsta's Paradise," a video so cinematic that it surely led to Fuqua's directorial feature film debut via the little-known The Replacement Killers three years later.
Michael Bay
Prior to helming some of the biggest blockbusters that Hollywood has ever seen in Armageddon and the Transformers franchise, Michael Bay developed his bombastic style by working on various music videos from 1989 to 1995. He helmed Vanilla Ice's rap ballad "I Love You," Tina Turner's "Love Thing," and Lionel Ritchie's "Do It To Me," among others.
RELATED: Michael Bay's 10 Best Movies, According To Ranker
But everything changed for Bay after he delivered the near-8-minute music video for Meatloaf's "I Would Do Anything For Love," an operatic short film that proved the director could handle action, chase scenes, and rich characterizations. Two years later, Bay made his big-screen debut via Bad Boys.
Michel Gondry
Perhaps more famous in Europe than in America, Michel Gondry is the visionary director behind such thought-stirring films as Eternal Sunshine of the Spotless Mind and Be Kind Rewind. The artist also got his start making wildly inventive music videos, including Lenny Kravitz's "Believe," Foo Fighters' "Everlong," Radiohead's "Knives Out," and Queen of the Stone Age's "No One Knows".
However, it's Gondry's relationship with Bjork that really stands out, having helmed seven of her music videos between 1993 and 1997, including the landmark video for "Human Behavior." It's the European sensibilities fostered between the two artists that spilled over into Gondry's imaginative filmography.
Gus Van Sant
Prior to earning his two directorial Oscar nominations for Good Will Hunting and Milk, indie auteur Gus Van Sant worked with everyone from David Bowie, to the Red Hot Chili Peppers. Care to guess which videos of theirs he helmed?
Responsible for some of the most iconic music videos of all time, as well as some of the best movies of the past 30 years, Van Sant directed Bowie's "Fame 90," Stone Temple Pilot's "Creep," and by far the most popular, Red Hot Chili Pepper's "Under the Bridge," three completely different visual expressions that perfectly mirror the energy of the subject matter. Unlike most others, Van Sant continued making music videos well after his cinematic career took off.
F. Gary Gray
F. Gary Gray has made some of the best movies and music videos of the past 30 years. From 1993 to 1995, he directed some of the coolest and most memorable music videos of the time, including Ice Cube's indelible "It Was a Good Day," Dr. Dre's "Keep Their Heads Ringin"https://screenrant.com/famous-directors-started-with-music-videos/," TLC's "Waterfalls," and many more. Even after his movie career took off, Gray made such impressive music videos as OutKast's "Ms. Jackson."
RELATED: F. Gary Gray's 10 Best Movies, According To IMDb
Gray's partnership with Ice Cube directly led to their teamwork on the beloved stoner comedy Friday, both of their feature film debuts. Gray has since gone on to direct Straight Outta Compton, The Fate of The Furious, Men in Black: International, and many more as an A-list filmmaker.
Francis Lawrence
Before helming massive blockbusters like I Am Legend and The Hunger Games franchise, Viennese artist Francis Lawrence was one of the most in-demand music video directors. The diversity of musical artists he has worked with is stunning.
From 1996 to 2005, Lawrence worked with the hottest pop artists in the music industry, helming the videos for The Black Eyed Peas' "Let's Get It Started," Justin Timberlake's "Rock Your Body," Avril Lavigne's "Sk8er Boi," Jennifer Lopez's "Jenny From the Block," and countless others. The networking connections Lawrence made with actors/musicians over 20 years certainly paid dividends when it came time to make movies.
Marc Webb
Known for 500 Days of Summer and The Amazing Spider-Man, Marc Webb spent roughly a dozen years cutting his teeth on music videos before making movies. Largely working in the rock genre, Webb collaborated with everyone from Green Day, Weezer, 3 Doors Down, Maroon 5, and more.
As his music video career advanced, Webb began working with mainstream pop stars like Fergie and Miley Cyrus, helming their videos for "London Bridge," and "Start All Over," respectively. However, it's Webb's bond with My Chemical Romance that continues to flourish, directing several music videos for the band from 2004 to 2014, many of which came well after Webb made his best movies and TV projects.
Gore Verbinski
Prior to making such blockbusters as the first three Pirates of the Caribbean movies and The Lone Ranger, Gore Verbinski had a brief stint directing punk rock music videos. Funnily enough, after making videos for NOFX, Vicious Rumors, Bad Religion, and Monster Magnet, Verbinski made his feature film debut with the safe family film Mousehunt in 1997.
More ironic yet, Verbinski's music videos are more obscure than most, yet his movies are among the most popular to be released over the last 20 years. Here's hoping he returns to the musical realm after helming his next movie Spaceless.
NEXT: Pirates Of The Caribbean – 10 Best Quotes From The Movies
Will Captain Carter Return? Hayley Atwell's MCU Future Explained
Washington News Post Latest Breaking News, Headlines
Washington News Post|| World News||USA News||Washington||
Celebrity News||Movie Review