Movie/tv News
1000 Lb. Sisters: A Timeline Of Amy & Tammy's Best & Worst Moments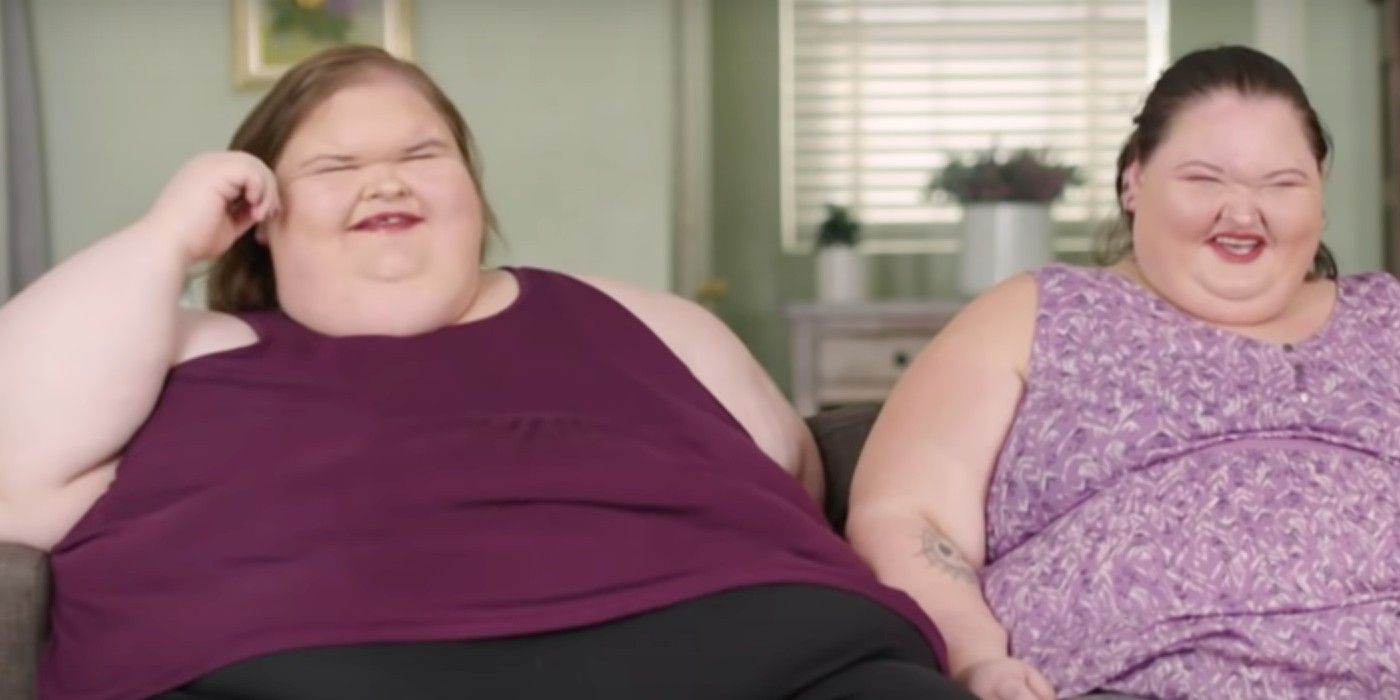 Amy and Tammy Slaton's complicated relationship has experienced dramatic highs and lows throughout the sisters' joint weight loss journeys in 1000-lb Sisters. Amy and Tammy demonstrated that starring on a reality show with a sibling has its fair share of pros and cons as the Slaton sisters endured both heartwarming and heartbreaking moments together over the course of their three seasons. From finding solace in each other's support in season 1 to feuding with one another in season 3, these are the best and worst parts of Amy and Tammy's sisterhood in 1000-lb Sisters.
Although Amy and Tammy share their intention to lose weight, the siblings have embarked on two disparate expeditions during their runs in 1000-lb Sisters. As the sisters made disproportionate progress toward their weight loss goals, Amy and Tammy's relationship became more muddled. Since undergoing bariatric surgery and giving birth to her son, Amy's continued to turn her life around, but Tammy's continued steady decline has strained the pair's connection.
Related: 1000-lb Sisters: Why Fans Are Turning On Amy & Tammy's Brother Chris
As Amy and Tammy's weight loss journeys move in opposite directions, the rift between the duo has strengthened. Fortunately, the siblings' lifetime together has produced a strong bond sure to prevent Amy and Tammy from destroying their relationship anytime soon. If Amy and Tammy have proven anything throughout 1000-lb Sisters seasons 1, 2, and, now, 3, it's the durability of their sisterhood.
Best: Amy & Tammy Go Swimming
Many of the most heartening moments in 1000-lb Sisters include Amy and Tammy's trips to pools. Regrettably, Amy and Tammy are often reminded of how their sizes limit them when they leave their homes and attempt to connect with the outside world. The pair of Slaton sisters often express anxiety over feeling like an outsider when going out to places like restaurants. While there are plenty of environments that point out how different Amy and Tammy are, pools became a sanctuary for the pair of reality stars. In 1000-lb Sisters season 1, Amy and Tammy found a community pool that was accessible for women of their weights. While swimming, Amy and Tammy were able to float weightlessly and forget about the burdens of their sizes for a brief moment in time. After the pool excursion, Tammy confessed, "It's one of the best days I've had in a long time."
Best: Amy & Tammy Support Each Other
Although 1000-lb Sisters has captured plenty of arguments between the Slaton siblings, one of the most profound moments recorded in the reality show found Amy and Tammy offering each other emotional support. Even though Amy was able to reach her weight loss goals at the end of season 1, both she and her older sister experienced some setbacks in their attempts to qualify for bariatric surgery. In one especially affecting scene, Amy and Tammy both learned they gained weight at a check-in. Amy and Tammy broke down and shared how devastated they were to learn they had regressed in their weight loss ambitions. The silver lining of this harrowing experience was how Amy and Tammy comforted one another. The sisters allowed each other to express their emotions, but by acknowledging their shared struggle, Amy and Tammy proved the strength of their bond.
Worst: Tammy Orders Amy Around
Amy and Tammy's journey in 1000-lb Sisters season 1 resulted in many heartfelt moments between the Slaton siblings, but the pair weren't always on the same page throughout their reality TV debut. In a tense scene between the sisters, Amy expressed that she was fed up with Tammy treating her like a servant. Due to Tammy's weight, it's very difficult for the Slaton sister to do everyday tasks like walking on her own. Amy essentially worked as Tammy's caretaker in season 1, helping Tammy with tasks like moving around and meal prep. Amy got fed up with Tammy when the reality star asked her sister to get her peanut butter right after Amy sat down. When Amy explained that she didn't like getting bossed around by her sister, Tammy lost her temper and lashed out at Amy. This fight showed how Tammy doesn't always take Amy's feelings into account.
Related: 1000-Lb Sisters: Why Fans Of The Show Shouldn't Criticize Baby Gage's Diet
Best: Amy & Tammy Celebrate Amy's Weight Loss
Amy's progress toward her weight loss goal wasn't a straight line, but by the end of 1000-lb Sisters season 1, the younger Slaton sister successfully qualified for bariatric surgery. After undergoing the gastric bypass operation, Amy went from 406 to 306 pounds. To commemorate Amy's triumph, the Slaton family gathered for the entertainer's weight reveal. When Amy showed up, Tammy along with the Slaton siblings' controversial mother, Darlene, celebrated the work Amy put into her transformation. Both Amy and Tammy got emotional as the typically detached Darlene admitted their grandmother would be proud of Amy's accomplishment. Although Tammy didn't make the same breakthroughs as her sister, she still expressed her happiness for Amy's evolution. This inspirational moment proved not only that Amy and Tammy were capable of turning their lives around, but also established their support for one another.
Worst: Amy & Tammy Argue Over Jerry Sykes
Although Tammy wasn't able to qualify for weight loss surgery in 1000-lb Sisters seasons 1 or 2, the reality star progressed in her romantic life in the last chapter of the sisters' series. Unfortunately, Tammy's then-boyfriend, Jerry Sykes, only demonstrated the Slaton sisters' flawed taste in significant others. Jerry turned out to be a terrible partner when it broke that Tammy's ex was married during the span of his relationship with the Slaton sister. Surprisingly, this wasn't Amy's biggest issue with Jerry. Tammy's ex-boyfriend was a problem for Amy because she believed he was an enabler. Amy's painfully aware that Tammy needs to lose weight to save her life, but Jerry routinely encouraged the reality star to eat unhealthy food during their relationship. When Amy and her brother Chris confronted Tammy about their disapproval of Jerry, Tammy got defensive and lashed out at her siblings.
Best: Tammy Finally Meets Baby Gage
One of the biggest reasons why Amy was motivated to lose weight in 1000-lb Sisters season 1 was to start a family with her husband Michael Halterman. Amy and Michael assured viewers they always planned to have a child of their own one day, but Amy couldn't get pregnant at the size she was when she was first introduced to fans. After undergoing her gastric bypass surgery, Amy was instructed to wait about two years before trying to get pregnant. In classic Amy style, however, the reality star discovered she was with child only a set of months after her operation and gave birth to her son Gage in November 2020. Unfortunately, Tammy contracted the coronavirus during the time of Gage's birth and was unable to meet him for several weeks. Tammy defeating COVID and meeting Gage saliently symbolized the strength of the Slaton sisters.
Worst: Amy & Tammy Face-Off In Season 3
Sadly, Amy and Tammy's discordant weight loss journeys came to a head in 1000-lb Sisters season 3. In a recent scene, Amy once again shared her frustration with playing the role of Tammy's caregiver. Now that she has a baby to look after, Amy explained that she can't always be able to complete Tammy's requests for food right away. On the other hand, Tammy felt ganged up on by her family who she didn't think celebrated her enough for losing weight at rehab. When Amy shared her plan to find a nurse to care for Tammy when she's preoccupied, Tammy felt unheard and lashed out at her siblings. Tammy called her sister names until Amy walked away, verifying that the 1000-lb Sisters stars' relationship is in trouble.
Next: 1000-Lb Sisters: How Fans Think Tammy Slaton Contracted COVID-19
Source: TLC Australia/YouTube
90 Day Fiancé: What We Know About Ashley Martson's New Boyfriend
About The Author
Washington News Post Latest Breaking News, Headlines
Washington News Post|| World News||USA News||Washington||
Celebrity News||Movie Review