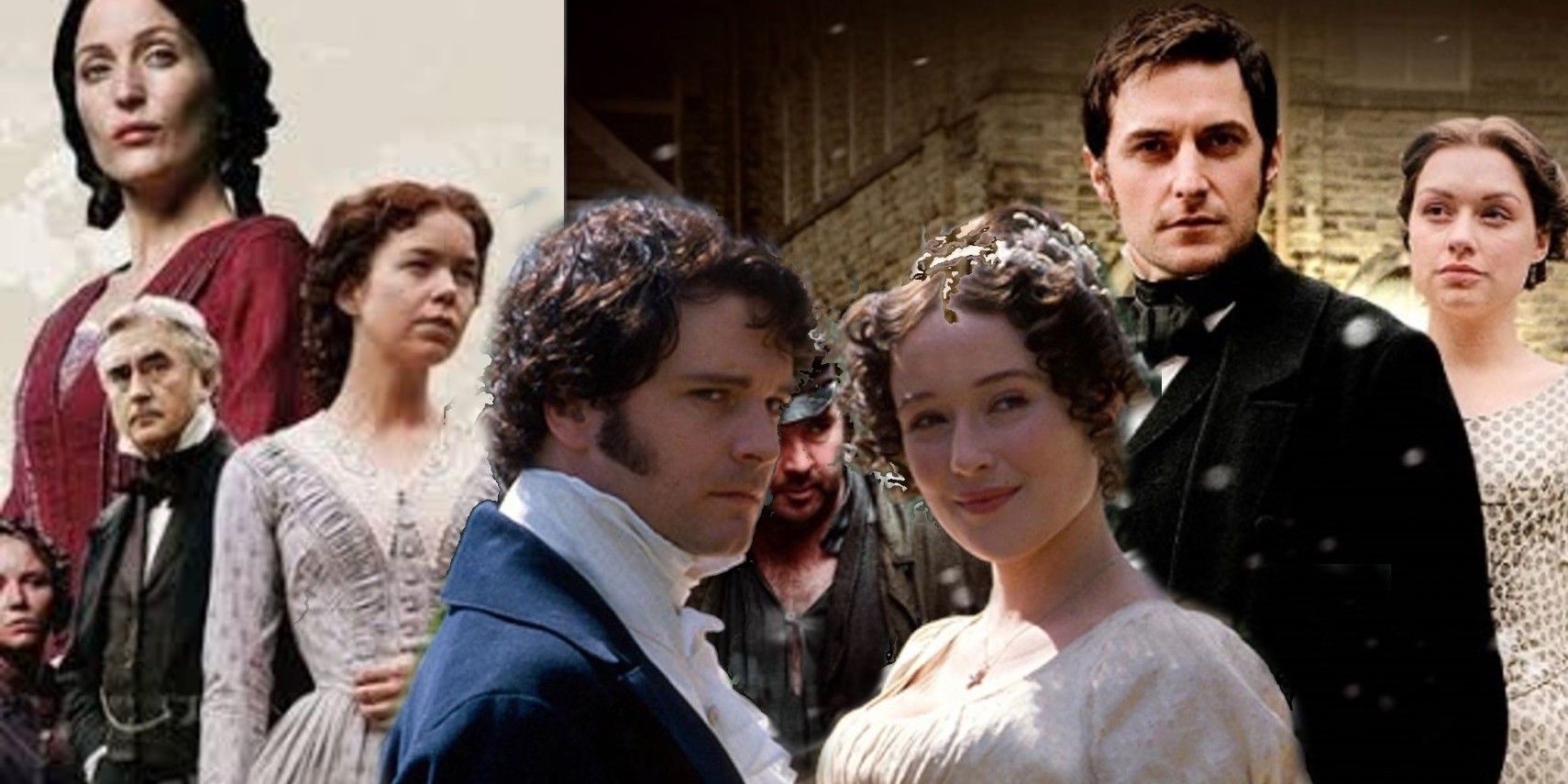 BBC has been providing a steady stream of dramatic and compelling entertainment since its beginning in the 1920s, but it was the '50s that saw its distinguished creation of costume dramas and parlor room mysteries. The '70s is widely regarded as the "golden age" of such content, when the BBC costume dramas began being exported to American audiences via the Public Broadcasting Service (PBS), and Masterpiece Theater, before finally starting its own American broadcasting channel altogether with BBC America.
RELATED: Which Period Drama Are You, Based On Your Zodiac Sign?
Their most popular period pieces center on socio-political disruptions across high and low society, as well as the trials and tribulations of romances set against a backdrop of historical events. Whether you like the witty and poignant social commentary of Charles Dickens and Jane Austen adaptations, the pomp and circumstance of the Royal Navy, the attention to detail in the costumes, or just the fine acting on display, there's a period piece for everyone. Move over Downton Abbey, here are the best BBC period dramas of all time.
Updated on December 1st, 2021 by Kayleena Pierce-Bohen: With the release of scintillating series like Netflix's Bridgerton, the passionate search for love in Georgian society, or movies like Emma, the latest adaptation of Jane Austen's classic bit of Regency-era satire, BBC period dramas have never been more popular. Stagnate BBC costume dramas focused on interpersonal relationships seen from a modern, fresh perspective make the historical seem accessible.  
Bleak House (2005) – Available On Hulu
Charles Dickens was known for his gritty tales of life spent in Victorian London, but nowhere are the depths of depravity and the heights of ambition revealed so candidly than in Bleak House, BBC's 2005 adaptation of his famous novel starring Gillian Anderson (The X-Files, Hannibal), and Charles Dance (Game of Thrones). 
This adaptation received 10 Emmy nominations, and it chronicles a dubious inheritance claim that languishes for generations in the courts, highlighting the convoluted nature of the 19th-century legal system that seems as relevant then as it does now. Nowhere is the decay of Victorian London more prominent than in this series of betrayal and corruption.
Persuasion (1995) – Available To Purchase On Prime Video
Before Ciaran Hinds gave tour-de-force performances in Game of Thrones and The Terror, he played the dashing Wentworth to Amanda Root's Anne, two star-crossed lovers torn apart by the brutal rules of British society. They are separated for nearly a decade, and in that time, Wentworth becomes a model seaman in the British Navy and Anne's once-wealthy family loses everything.
When they're reunited and Anne is considered an old maid, they are forced to discover if their love is deeper than the early passion of their youth and stronger than the societal forces that conspire to destroy it. Their hearts persuade them to defy the stipulations of society, their families, and convention itself in order to find their version of happiness.
Pride And Prejudice (1995) – Available On Hulu, HBO Max, And BritBox
Pride and Prejudice may be the most renowned of Jane Austen's novels, but the 1995 BBC adaptation is the most renowned version on the big or small screen. Other versions have tried and failed to capture the electric chemistry of Colin Firth in a career-defining role as the aloof Mr. Darcy and Jennifer Ehle as the fiery Elizabeth Bennet.
One hidden detail of the BBC version is its love of nature. Screenwriter Andrew Davies specifically wanted to pull his leads out of the stuffy parlors and drawing rooms of previous BBC costume dramas and into the English countryside. Brimming with Austen's typical commentary on societal expectations, it's a well-crafted drama that provides poignant insight into the trials and tribulations of finding true love amidst scandal, vanity, pride, and prejudice.
North And South (2004) – Available On BritBox And Hoopla
When the daughter of a middle-class clergyman leaves her comfortable life in the South of England for the industrial North, she doesn't expect to find anything alluring among its smokestacks and cotton mills. Once pulled into the frenetic pace of the northern city of Milton, she encounters John Thornton, whom she perceives as a ruthless mill owner.
RELATED: 9 Hidden Details About The Main Characters Of BBC's North & South Everyone Missed
Over the first few months, she realizes his iron hand is for his employee's own benefit, and he realizes her proud ways are not born from condescension but ignorance. What makes this BBC period drama compelling is that both are naive about each other's ways of life, but soon their misconceptions melt away as does their animosity into blatant attraction. Many recognizable character actors appear throughout the series, including Brendan Coyle of Downton Abbey fame.
The Barchester Chronicles (1982)
When the widower Reverend Harding, who both serves the people of Barchester as a clergyman and as the warden of the hospital, is accused of cheating pensioners, he's almost run out of his parish. When a young surgeon takes it upon himself to expose the Reverend, matters are only made worse by the fact that he's also fallen in love with the Reverend's youngest daughter.
Donald Pleasence (of the Halloween franchise) must review the lawsuit aimed at the church, while his son-in-law (an egotistical archdeacon) fights off interference from a newly arrived bishop, his imperious wife, and his oleaginous chaplain (played by Alan Rickman of the Die Hard, the Harry Potter films in his first television role). The scheming of the citizens and the church make this a power struggle of epic proportions set in the backdrop of a small English town.
Peaky Blinders (2013–2022) – Available On Netflix
Somewhere amidst the whimsical Austen and dreary Dickens sits Peaky Blinders, a no-holds-barred gritty period drama set in Birmingham, England shortly before the first World War. It focuses on rivalries between several gangster families, foremost among them the Shelbys.
RELATED: The 10 Best Episodes Of Peaky Blinders (According To IMDb)
The real Peaky Blinders was an urban youth gang in the late 19th century that terrorized the city led by Tommy Shelby (Cillian Murphy) and became enmeshed in the plight of working-class British citizens. The series is projected to last a total of seven seasons, no doubt winning further BAFTA TV Awards for Best Drama Series thanks to its authentic portrayal of inner-city life.
The Way We Live Now (2001) – Available On BritBox And Hoopla
Augustus Melmotte, a Jewish financier from Austria, arrives in London determined to make himself a proper English gentleman. He upends the current financial markets and all of London society in his pursuit, and his lofty ascent and downward spiral are set against the backdrop of avarice and corruption.
Melmotte (David Suchet) is a character that is larger than life, making his every triumph and defeat in the House of Commons a theatrical event. Based on the Anthony Trollope novel exposing the greed of London in the Victorian era, it takes on a Dickensian tome for its ensemble cast of colorful characters and commentary on societal degradation.
Upstairs, Downstairs (1971) – Available On BritBox And Acorn TV
Before there was Downton Abbey and the dramatic chronicles of the Crawley family and their servant staff in the English countryside, there was Upstairs, Downstairs, a deft look at the goings-on of the Bellamy family upstairs along with their downstairs staff at 165 Eaton Place.
Amidst the socio-political and historical events of the Edwardian Era, the lives and fortunes of the Bellamy family ascend and descend with the whim of London society, while the staff downstairs provide pithy commentary as they serve every Bellamy generation, from 1903 until 1930. It's a sprawling investigation of the struggles of the working class, as well as their triumphs, through WWI and the Great Depression.
Great Expectations (1999) – Available On BritBox
One of Charles Dickens's most famous novels, Great Expectations comes to vivid life in this masterful BBC adaptation about a young orphan boy named Pip (Ioan Gruffudd, Fantastic Four, Horatio Hornblower) achieves great fortune under mysterious circumstances.
RELATED: 10 Underrated Period Drama TV Series & Movies, Ranked
In love with his childhood playmate Estella, the ward of Miss Havisham, he knows he must be better than a blacksmith apprentice to win her approval. A mysterious stranger gives him a large sum of money to be educated as a gentleman, but only under the strictest sense of anonymity. Will his new good fortune be enough to release Estella from Miss Havisham's grasp, or will the "great expectations" of his new life transformation prove too much for Pip to shoulder?
Madame Bovary (2000) – Available On BritBox
Britain's most famous adulteress is brought to sensual life by Frances O'Connor in Madame Bovary. The classic novel by Gustave Flaubert was salacious enough to be banned from the French Court in 1857 for obscenity, earning it a scandalous reputation much like its heroine.
Featuring the talents of some of Britain's greatest thespians, Greg Wise (Sense and Sensibility), Hugh Bonneville (Mansfield Park, Downton Abbey), and Hugh Dancy (Hannibal), they all play the men surrounding Emma Bovary, an imaginative woman living in rural Normandy who longs for experiences more exciting than her location can provide. Her desire to live the stories that she finds in books makes her a perfect target for those that prey upon dreamers.
I, Claudius (1976) – Available On Acorn TV
In the mid-'70s, Robert Graves' esteemed historical novel I, Claudius was turned into a series of the same name, exposing all the scandalous events of Roman History during the reign of Emperor Claudius. Over 12 episodes, Claudius goes from being a scholarly historian to Emperor, encountering several other famous figures along the way.
Packed full of famous British thespians including Patrick Stewart in one of his best roles, Brian Blessed, John Hurt, Derek Jacobi, and John-Rhys Davies, it was a sensational epic that garnered countless awards and remains as debaucherous, violent, and melodramatic as HBO's Rome or Game of Thrones. 
The Singing Detective (1986)
It may be over three full decades since Dennis Potter's six-part drama The Singing Detective hit the BBC, but it has endured as one of the broadcasting company's most beloved series. It centers around a middle-aged writer of pulp crime novels (Michael Gambon) who becomes hospitalized for a skin disease and hallucinates a fantastical story involving his medical staff.
He becomes "the singing detective", the protagonist of one of his old detective novels set in post-war London in the '40s. Not only does he solve the crimes laid out by his imagination, he also delves into the inner dark recesses of his mind, dredging up past trauma long forgotten. It still receives praise for its compelling blend of reality and fantasy, along with dynamic performances.
Taboo (2015–Present) – Available On Hulu, Fubo TV, And Crackle
Taboo may not be to every period lover's taste, and for a BBC costume drama, it veers radically away from the tropes found in prim and proper parlor rooms. But the story of James Delaney, soldier, slave, and raconteur who returns to London from Africa to inherit his father's shipping company is one of bold drama and commanding visuals.
RELATED: 10 Reasons You Need to Watch The BBC-1 Series Taboo Right Now
Written by and starring Tom Hardy as the bullish Delaney, it reveals the dark decay of Georgian London the way Deadwood peeled back the romanticism of the Old West. As Delaney seeks to rebuild his father's empire, he becomes the target of the powerful East India Trading Company, the American Colonies, and the Crown.
Poldark (2015) – Available On Prime Video
Based on the equally popular BBC series Poldark from the '70s, the new adaptation combines dramatic storytelling with rousing adventure and some truly gorgeous cinematography. It centers on Captain Ross Poldark, a British soldier returning home from the American Revolutionary War and finding it much changed.
Aidan Turner (The Hobbit trilogy) is both heroic and complex as Capt. Poldark, a man who must rebuild his family mine in the wake of his father's death, and see his true love married off to someone else. A strong cast of BBC period drama regulars bring 18th century Cornwall to vivid life, and the visual and costuming are second to none.
Jane Eyre (1983) – Available On BritBox
Before he was Bond, Timothy Dalton did what many British actors did on the cusp of stardom – he donned a sweeping frock coat and a cravat and transformed himself into a Byronic hero for the BBC. As Mr. Rochester, he joined the ranks of Colin Firth's Mr. Darcy as an enigmatic and smoldering leading man in Jane Eyre.
When the titular Jane Eyre, a shy young woman is hired on as the governess at Mr. Rochester's home, she's not prepared for the fact that her new place of employment may be haunted, and that her brooding employer is handsome. The palpable chemistry between the two leads in this BBC adaptation makes it transcend its antiquated material.
Call The Midwife (2012)  – Available On Pluto TV, Hoopla, And Netflix
At Nonnatus House, the nuns are nurses and provide a very important service — midwifery. When a new midwife finds herself at the convent instead of the local hospital she is unsure how to find her bearings, but soon gets pulled into the lovable community of unconventional women who assist families in 1950s East End London.
RELATED: 10 Shows Similar To Call The Midwife (& Where You Can Stream Them)
Based on the memoirs of Jennifer Worth, this touching series offers a hilarious and joyful look at bringing new life into the world. By focusing on the nurses and the families that they serve, it offers a rare glimpse into a colorful and vital vocation.
Gentleman Jack (2019–Present) – Available On HBOMax
As fiery as the whiskey that shares its name, Gentleman Jack focuses on the indefatigable Anne Lister, a landowner determined to restore her family's fortune in the industrial world. Along the way, she juggles a series of passionate relationships with other women and writes in her diary, which is used throughout the BBC period drama.
Because it's based on the real Anne Lister's personal recollections, the series feels authentic and genuine, even as it's presented in a lavish aesthetic. The decidedly modern appeal of Lister's bravado (portrayed by a swaggering Suranne Jones) makes it broadly acceptable, even with its more adult overtones.
Lark Rise To Candleford (2008–2011) – Available On Hulu And BritBox
When Laura Timmins leaves the hamlet of Lark Rise for the town of Candleford, she finds a clash of craftsmen, farmers, and gentry. The flow of mingling neighbors, rivals, lovers, and friends is tested by epidemics, poor harvests, a new Post Office Inspector, and more in this adaptation of Flora Thompson's memoir.
Central to the plot of Lark Rise to Candleford is the bond between Laura and her mother's cousin, Dorcas Lane who, through her effervescent personality shows Laura a different way to see the world. This special friendship between the two women sees them through trials and triumphs in 19th-century England.
Wives And Daughters (1999)
For fans of villagers brimming with gossip, eccentric nobles, class clashes, and young love, Wives and Daughters is a series that offers it all. Based on Elizabeth Gaskell's well-known novel of the same name, it follows Molly Gibson, the 17-year old daughter of the country doctor, navigating life and love from her small hamlet to the height of society.
As far as BBC costume dramas go, Wives and Daughters is a lavish production full of sweeping romance and elegant ballgowns, as well as quaint country roads and colorful townspeople. Fans of Gaskell's other works, including North & South will want to slip away with this classic.
Cranford (2007) – Available On BritBox And Hoopla
The small town of Cranford faces a great deal of change when the railroad approaches, a new doctor moves in with strange medical techniques, and immigrants start taking up residence. The close-knit townsfolk have to adjust their way of life to accommodate modernity, and the process is both hysterical and poignant.
Cranford is another celebrated BBC period drama from the pages of Elizabeth Gaskell and once again focuses on the dichotomy between rural and urban living in the burgeoning Industrial Age. Of note is the emphasis on its mature characters, who make important contributions to the plot and offer unique perspectives.
NEXT: 10 Things In Historical Period Movies You Didn't Know Were CGI
Hawkeye Secretly Revealed Kingpin's MCU Return
About The Author
Washington News Post Latest Breaking News, Headlines
Washington News Post|| World News||USA News||Washington||
Celebrity News||Movie Review