Movie/tv News
Batgirl: 9 Reddit Theories About What Its Cancellation Could Mean For The DCEU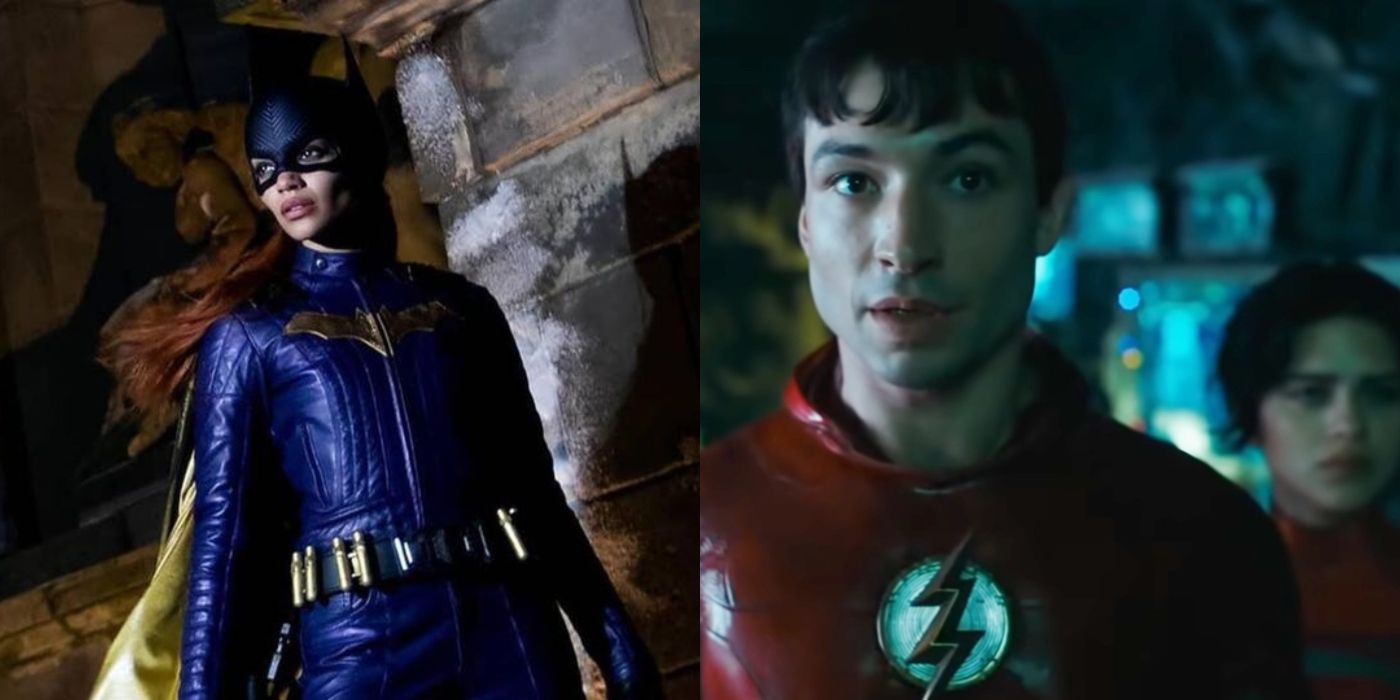 The recent announcement of Warner Brothers' decision to cancel the release of Batgirl, a film that was meant to serve as a part of the DC Extended Universe, has left the public shocked and confused. The recent merger between Warner Brothers and Discovery has caused a shift in management, reshuffling of schedules, and even the cancellation of other films in post-production such as a Scoob sequel, leaving many people worried about what could happen next.
The film's cancellation has been met with an unsurprising amount of controversy and criticism, and people have certainly not been afraid of voicing their feeling on sites like Reddit. Many DC fans have flocked over the site to not only express their frustration with the studio's decision but to also theorize about what it might mean for future installments of the DCEU.
10

Rewriting the Continuity
Not too much is known about the plot of the upcoming Flash movie other than it reportedly revolves around time and multiverse travel, thereby opening the door for Michael Keaton's return to the role of Batman. With Keaton having also shot scenes for Batgirl, it's been widely speculated the studio originally planned to have Keaton take over the role of the DCEU's main Batman from Ben Affleck.
RELATED: 10 Warner Bros. Movies & TV Shows New CEO David Zaslav Has Axed So Far
After Batgirl's cancellation, however, it seems that the DCEU is rerouting its way towards a different path. Reddit user tinoztr has their own idea for this potential new direction, claiming "Surely this COULD mean that they will not go long-term with Keaton and might announce Justice League Crisis On Infinite Earth to get Affleck back."
9

Other DCEU Films Are Now In Jeopardy
Among the current slate of upcoming DCEU projects is a film starring Cobra Kai's Xolo Mariduena as the character Blue Beetle, which is set to premiere in 2023. Even though it was recently announced that Blue Beetle has wrapped filming, many are still fearing that it might suffer the same fate as Batgirl, along with several other still developing films in the franchise.
Reddit user Arkvoodle42 seems to be assuming the worst about the film's release, saying "at this point, Blue Beetle doesn't have a f**king PRAYER, does it?" Redditor RileyTaker on the other hand, was much more optimistic in their response to Arkvoodle42's pessimism, claiming "If Blue Beetle is good, it might be safe."
8

Current And Upcoming HBO Max Shows Are Also In Danger
The merger between Warner Media and Discovery hasn't just affected Batgirl, but it's also led to the cancellation of multiple TV series produced by the studio as well as several HBO Max originals being canceled or completely scrubbed from the service. With this in mind, fans have been left to worry about the fate of still-developing DC series and especially current ones like The Suicide Squad spin-off, Peacemaker.
Redditor ChronoMonkeyX feels that "everything on HBO Max is at massive risk" and reminded others in the thread that other "Shows that have been renewed have been canceled, like GLOW which started production, and Stumptown." The fans can rest assured about Peacemaker's fate though, as showrunner James Gunn has already confirmed the show's safety from the ax at Warner Bros.
7

The DCEU Will Go Through A Complete Reboot
There are some who believe and have speculated that Batgirl's cancellation is a sign of new creative standards for both the studio and the franchise. However, there are others who don't think Batgirl is the end of it, and that Warner Brothers might just end up scrapping the entire DCEU altogether to make way for an entirely different continuity.
RELATED: 10 Best Animal Characters Who Should Join The DCEU
Reddit user WestCoastDirtyBird doesn't seem to have much hope for films beyond Blue Beetle, saying "I can see a complete reboot happening once The Flash comes out. Might as well consider Wonder Woman 3, Green Lantern, Justice League Dark, Zatanna, etc. dead at this point." This is one theory that might be a bit more far-fetched than the rest, as the idea of a complete and total reboot of the franchise might not go over so well with the overall fandom.
6

The Snyder-Verse Could Be Restored
The "Snyder-verse" refers to the ongoing story that began with Zack Snyder's Man of Steel and would've continued through his scrapped Justice League trilogy. The Snyderverse plan has changed over time though: the 2017 theatrical cut of Justice League underperformed critically and commercially, however, which led to the studio shifting focus from Snyder's vision to producing individual character films for the DCEU and putting less emphasis on the interconnectivity between them.
With Batgirl now completely out of the picture, many fans are beginning to speculate if it's a sign of the "Snyder-verse" gearing up to make a return. Redditor thissiteisaids444 is more than confident that it will, as they stated that "WBD are clearly not interested" anymore in whatever plan The Flash had for the timeline of the franchise and that "This and Affleck coming back tell you all you need to know in terms of where this is headed."
5

Less Studio Focus On "Elseworld" Films
In between releases of DCEU films, Warner Bros. has also produced what has been dubbed by fans as "Elseworld" films: experimental stand-alone stories taking place outside the official DC canon. Films like The Batman and Joaquin Phoenix's Joker have been critical and commercial successes that have proven that the studio can still profit from films that are entirely disconnected from one another.
Redditor Alternative_Poem5403 seems to think that Batgirl's cancellation could mean that the production of those unrelated films will stop altogether, saying "it is clear that Justice League, not Joker, is the future for DC". With a sequel for Joker having already been green-lit and a follow-up to The Batman also in early development, however, it seems that DC plans to keep developing "Elseworld" stories and are still more than willing to work with multiple different continuities.
4

Ben Affleck's Batman Might Stick Around A Bit Longer
Ben Affleck has made no secret of just how miserable he found the re-shoots of Justice League to be, and after his solo Batman film was canceled, he later announced that his upcoming appearance in The Flash would be his last time donning the cape and cowl. After recently agreeing to return to the character in the Aquaman sequel, however, many fans are now wondering if he's more committed to the role than he was letting on.
RELATED: 10 Best Batman Comics Characters Not Yet In The DCEU
While many expressed disappointment and concern over the cancellation of Batgirl, Redditor AceyRady felt the exact opposite. They "never really liked the idea" of getting rid of Affleck for Keaton, saying "I'm hoping this means Affleck will be back", and that the cancellation was the "the best news" they had heard all week.
3

Henry Cavill's Superman Will Also Return
It may be surprising to some that Henry Cavill hasn't made a single on-screen appearance as Superman since 2017 (not counting the "Snyder Cut" in 2021). There were some interesting Twitter reactions to Cavill's Comic Con absence last month, leading many to worry if he'll ever return to the role at all.
In a separate thread, user thissiteisaids444 noted that "the signs are all there" for Cavill's return alongside Affleck, and expressed their optimism that "at the very least Affleck and Cavill are coming back to finish their story arcs, that much I'm sure of." While nothing official has been announced, Affleck's return does seem to be a promising sign that Cavill will be joining him again soon.
2

The Flash Movie Will Have A Different Ending
For anyone who wasn't too keen on the idea of a 70-year-old Michael Keaton taking over the position as the DCEU's main Batman, Seeing how the film is no longer canon, whatever ending that was originally planned for Keaton in The Flash that would've allowed for him to appear in Batgirl might not come to fruition after all.
While Reddit user Vadermaulkylo feels "truly terrible for all those who worked hard" on Batgirl, the announcement still has them excited over other things. They "couldn't be more thrilled" about where things might be heading, saying "I think they plan on scrapping Flash's reboot ending with no Superman and Keaton Batman."
NEXT: 10 Ways The DCEU Would Be Different If It Started With The Dark Knight Trilogy
1
File source
Washington News Post Latest Breaking News, Headlines
Washington News Post|| World News||USA News||Washington||
Celebrity News||Movie Review