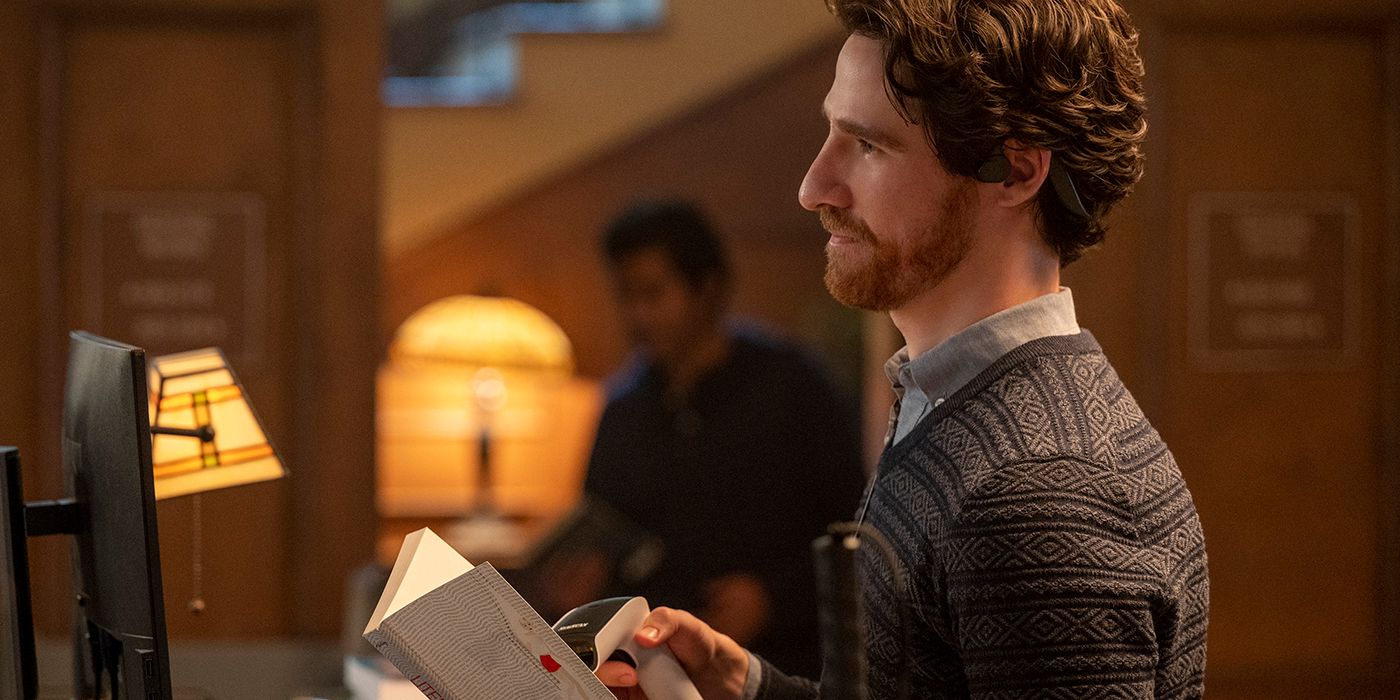 YOU returns for its third season on October 15, and the hit Netflix series promises to introduce its chaotic couple to suburban Hell in the premiere. After last season's surprise ending left Joe (Penn Badgley, Gossip Girl) married to a woman as terrifying as he is and Love (Victoria Pedretti, The Haunting of Bly Manor) pregnant with the key to staying alive, fans can't wait to find out what the writers have in store next.
The trailers, posters, and teasers have already made several residents of the serene yet sinister Madre Linda known to viewers – including neighbor and Joe's latest object of desire, Natalie (Michaela McManus, One Tree Hill). But not every new face is a potential threat to Joe and Love's unholy union; some may even lend a helping hand. One such friendly neighbor is Dante (Ben Mehl, The Good Wife), a doting stepfather who meets Joe at the library.
Related: Penn Badgley Teases YOU Season 3, Episode 1 Will End Unexpectedly
With experience both on the stage and in classrooms, Mehl brings the world of theater acting to YOU. He also adds some personal life experience as a low visibility actor playing a character who is completely blind. Mehl took the time to chat with Screen Rant about the preparation he underwent to properly represent Dante, and the lessons he learned about going from the screen to the stage.
Screen Rant: How would you describe Dante in your own words for those coming into the show's third season?
Ben Mehl: Dante is, in a word, independent. He's somebody who has a big heart, that doesn't necessarily let you in until he trusts you. He's a family man; he is a very good friend, a very good stepfather, and a very good husband. Once you're in his heart, then you're really there.
This season is about parenthood in a huge way. What is Dante's approach to parenting specifically, and how does that connect or clash with Joe and Love's?
Ben Mehl: Dante's husband brought two kids into the marriage, and he is a very loving stepfather to these kids. They are also trying to expand their family, and they run into problems. It can be very difficult, if you've ever gone through that process, especially for a same-sex couple. It can be really, really challenging.

So, he is very much a family man. And like Joe and Love, they would do anything for their kids. They try to do what's best for their kids, but it's just different circumstances. And within those circumstances, you try to figure out what the right thing to do is.
What was it like building that family dynamic in the moments you get to be with your husband onscreen?
Ben Mehl: It was just so easy and natural. With Noel [Arthur], who plays my husband, we just hit it off right away. I don't want to give anything away, but we had a good time.

And as a father myself – I have two twin daughters – I could easily relate to the love and the passion that you have for your kids.
What was it about YOU that attracted you, and how did you end up on this fabulous journey?
Ben Mehl: To be honest, as a father, I don't always get to watch everything. I had not seen the show when I got the audition, but as soon as I could, I watched everything and immediately fell in love with it.

I didn't quite know what to make of it first, and I was like, "I don't know who the audience is for this." And then once I realized that it was funny, and there was a lot of humor in it, I could stop watching and began to really appreciate the writing and the acting. It was a no-brainer for me.

Can I tell you how I found out that I got the part? I got home from the playground with my daughters, who had just turned three. I came home and they needed a bath, so I was running to bath. They're in the tub, and my phone rings – and it's my agent. I really, really wanted this part, and I was hoping beyond all hope that this is what the call was going to be about. My agent said that I got the part, and I was so over the moon. I said, "I can't talk about this right now, I'm bathing my daughters. I'm gonna have to call you back."
I read about your desire to immerse yourself in the character and accurately represent how someone with Dante's level of blindness would move through the world. What were some of the most important discoveries about learning to use a cane and working with a mobility specialist?
Ben Mehl: Yes, exactly. I worked with mobility and orientation specialists because I myself am visually impaired but am not totally blind like Dante. On the one hand, I really appreciate that they cast someone like me in the role in terms of representation. And on top of that, it was very important for me to represent what it is to be totally blind as accurately as I could.

What I did was I spent hours outside of an apartment building that is designed specifically to house blind people, and I observed people as they came and went. The main thing that I noticed was their poise. For people who have this skill of walking without sight, and using the cane as your eyes, there is a confidence and a poise that I saw. What became so important was not to portray somebody who is fumbling around trying to find things, but actually somebody who understands how to navigate the world without sight; someone who has lived that experience and can live with confidence and independence as Dante does.
Sera Gamble was inspired by her own godfather to write Dante. What conversations did you have with her about the parameters of this representation, or with other members of the community to help put Dante's story into perspective?
Ben Mehl: With Sera, we talked about her godfather. What was really amazing about her desire to put Dante in this world as somebody who is blind is that she wasn't using him for his blindness. She just thought it was important to include someone who happens to be blind because some of us are blind. I think that's amazing.

I also spoke with members of the community, friends of mine, about their experiences. I talked at length with Marilee Talkington, who is a fantastic actress currently in See. She has done a lot of work in terms of advocating for representation of blind and low vision characters, and the casting of blind and low vision actors to play those characters. We talked at length about the specifics – like, when I think, I move my eyes to think a thought. I look into a corner of space to think a thought, and it's not that I'm looking at something, it's just that my eyes move as my brain moves.

So, I would ask, "What do you think about that? What's your experience with that, and your experience with other people? Would Dante's eyes do that?" The answer was yes, and so I learned to trust the simplicity and trust myself when moving my eyes in natural ways. I didn't want to be frozen or stuck or over-emphasizing some kind of perceived notion of what blindness is in the eyes. Because it looks different [for] everybody. That's so amazing to think about really because there are so many notions that we might have like, "Oh, that must be like that." But you won't, you won't know until you're in that position.
You do a lot of theater work and teach as well. What aspects of your experience in either would you say have been the biggest boon or challenge for you when acting for the screen instead of the stage?
Ben Mehl: The answer to your question is everything. Everything that I do as a theater actor is what I bring to my work on camera. For me, what I focused on was the breath – making sure that I'm alive in my breath so that I can just live through truthful moments. On camera, I think it's much more about simple, authentic, truthful moments. Whereas in theater, I've done a lot of broad physical comedy, and that's a different thing.

But one thing that did get in my way was that, on the first day, I was on this gorgeous and huge library set, and my instinct to fill the space with my voice kicked in. I said my first line, and I knew I was way too loud. The AD came and said, "Okay, Ben, you can be a lot quieter." So, the next take, I went so quiet. It was so quiet, and the AD came back and said, "You can be even quieter."

I had a learning curve, but then it also just made sense. I'm in a library and I can just whisper because that's what people do in a library. So, I actually do the thing.
With shows like See and now YOU emphasizing characters with low visibility, how do you feel the industry has shifted when it comes to this kind of representation, and what doors would you hope to open next?
Ben Mehl: There's been a lot of work by people like Marilee and many others, and I recognize that I am standing on the shoulders of many people who have not been seen; who have been behind the scenes, trying to advocate for representation. I hope that with this role, by simply being been in this role, I can show that we have value and that is a positive thing to be inclusive of everybody who lives in this world. It actually adds to the story and makes things not only more representative but more interesting.
Was there any costar you were most excited to share scenes with or any onscreen dynamic you were most surprised by on YOU?
Ben Mehl: I didn't know what to expect, and I really admired so many of the actors in the show. One funny thing is that, when I found out that Scott Speedman was going to be in season 3, it was particularly exciting for me because we went to the same high school.

We were in the first table read on Zoom, and I was like, "Okay, I'm gonna message him," because I read about him in a school newspaper while I was a student. I messaged him, and I was like, "Hey, this is me. We went to the same school." And no answer. My heart was ripped out. I didn't know what was going on. "Should I not have messaged him? Was that a taboo thing to do?"

The messenger function was not working, so he never saw the message. When we each other in person, I told him, and he was so happy to talk about our alma mater.
What projects do you have coming up next, or what ambitions do you have in terms of future work?
Ben Mehl: There's nothing that I can talk about. But what I am excited about, and what I always hope for, is to have a vast range of different characters. What brought me to theater was really transforming into different people. And so, what I hope for as I continue is to get to play vastly different characters. That's my ambition.
More: Every Horror Movie & TV Show Coming To Netflix For Halloween 2021
YOU's third season arrives October 15 on Netflix.
Legends of Tomorrow 100th Episode Images: 7 Arrowverse Heroes Return
About The Author
Washington News Post Latest Breaking News, Headlines
Washington News Post|| World News||USA News||Washington||
Celebrity News||Movie Review