Movie/tv News
Hawkeye's Pizza Dog Wields a Bow & Arrow in Adorable Photo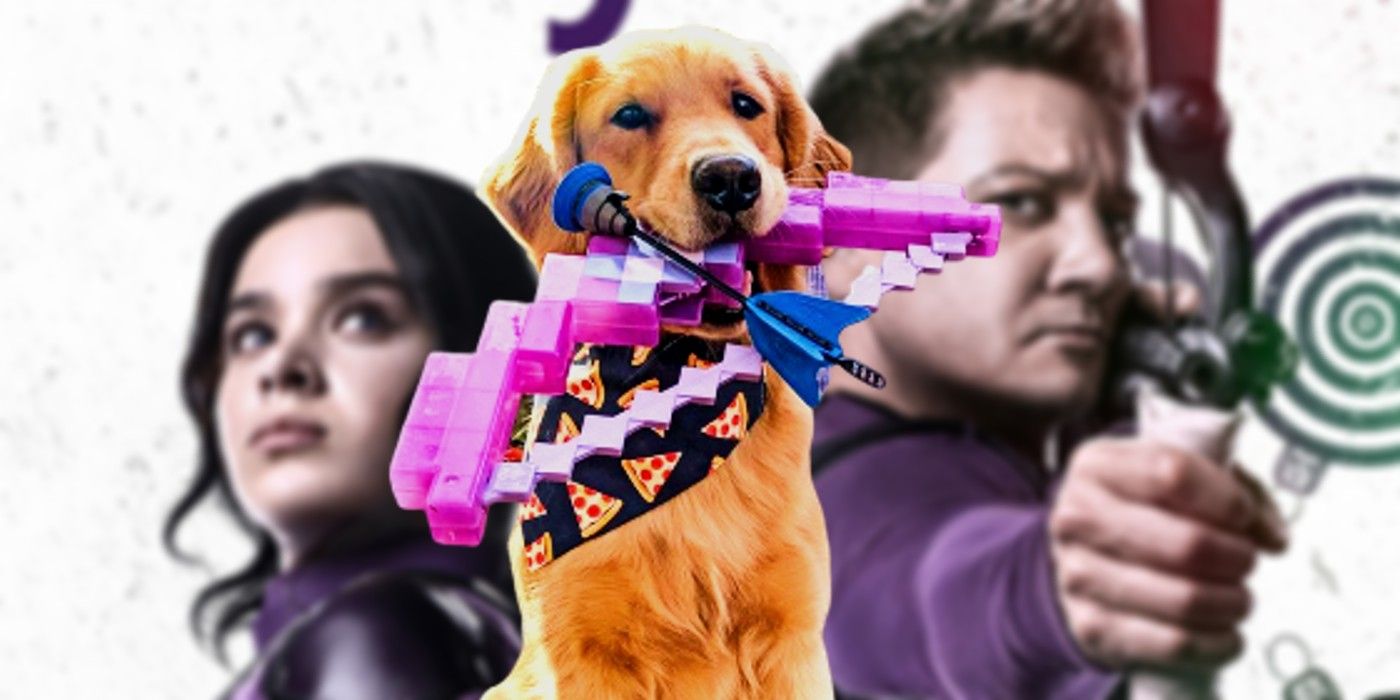 Hawkeye's Lucky the Pizza Dog actor, Jolt, wields her own bow and arrow in an adorable photo depicting her celebration of the premiere of Hawkeye.
Hawkeye's Lucky the Pizza Dog wields a bow and arrow to celebrate the premiere of Hawkeye in an adorable new photo. The MCU is known for tugging at viewers' heartstrings by giving their heroes the most adorable sidekicks. Baby Groot captured the hearts of Marvel fans across the nation with his dance moves and affinity for pushing red buttons. The next big heartthrob was Alligator Loki which saw everyone's favorite God of Mischief as an alligator wearing a tiny horned helmet. When Shang-Chi debuted mystical creature Morris, Marvel proved that they could make something adorable without even needing a face. However, Baby Groot, Alligator Loki, and Morris might just be upstaged by the newest fluffy companion.
Hawkeye premiered on Disney+ on November 24, 2021, allowing for Pizza Dog to make his MCU entrance. Kate Bishop (Hailee Seinfeld) first catches Hawkeye's (Jeremy Renner) attention when, wearing the Ronin uniform, she fearlessly saves a one-eyed dog from being hit by a car. Saving the dog proves to be her demise after she drops the dog off at her apartment, thus, accidentally revealing her identity and address to the Tracksuit Mafia. However, Pizza Dog proved his worth by attacking a member of the Tracksuit Mafia, and he has already become quite partial to Bishop, Hawkeye, and, of course, pizza.
Related: Why Hawkeye's Tracksuit Mafia Always Say "Bro"
The animal actor behind Pizza Dog is a golden retriever named Jolt, and she celebrated Hawkeye's premiere by showing off her very own bow and arrow. The pup boasts her own Instagram account where she shows off her works and what she does in her free time. On November 24, Jolt had a double celebration for the premiere of Hawkeye, as well as for her 4th birthday. In honor of Hawkeye's premiere, she wielded her very own bow and arrow, alongside a poster for the miniseries. Check out the photo below:
In addition to being adorable, Pizza Dog also has a real history in the Marvel Universe. Pizza Dog appeared in a touching Marvel comic where he is originally owned by the Tracksuit Mafia and named Arrow. However, when Hawkeye shows the dog kindness, he turns on the Mafia to help Hawkeye and ends up badly injured in the process. Pizza Dog pulls through, however, and becomes Hawkeye and Bishop's best pal and gets his new name. Little Jolt is bringing to life a real Marvel hero and is quickly stealing hearts with her adorable performance in Hawkeye.
Jolt is very deserving of her celebration of Hawkeye and of herself. After just two episodes, it is already clear that Pizza Dog is the real star of Hawkeye. She was the one who made Bishop's vigilante debut possible and fearlessly attacked a Mafia member, refusing to let go even when she got kicked. More importantly, she is what brings out the human side of Bishop and Hawkeye. Bishop is a young girl with bold dreams of heroism, and the Mafia and black-market auctions give her just the chance she needs to prove she's a big-time hero. However, she chooses to take time away from the mission to save an innocent dog, proving her true heroism. Hawkeye, for now, is a bit less fond of Pizza Dog, but he will no doubt warm up to him as time goes on. As Hawkeye continues, Pizza Dog may be the only one who can crack through Hawkeye's walls and help him forget his past as Ronin and remember his humanness instead.
More: Hawkeye's True Marvel Origin Is Impossible In The MCU
Source: Jolt
Foundation Season 2 Story: What Happens Next In The Books
About The Author
Washington News Post Latest Breaking News, Headlines
Washington News Post|| World News||USA News||Washington||
Celebrity News||Movie Review