Movie/tv News
How to Get Masterless Starglitter in Genshin Impact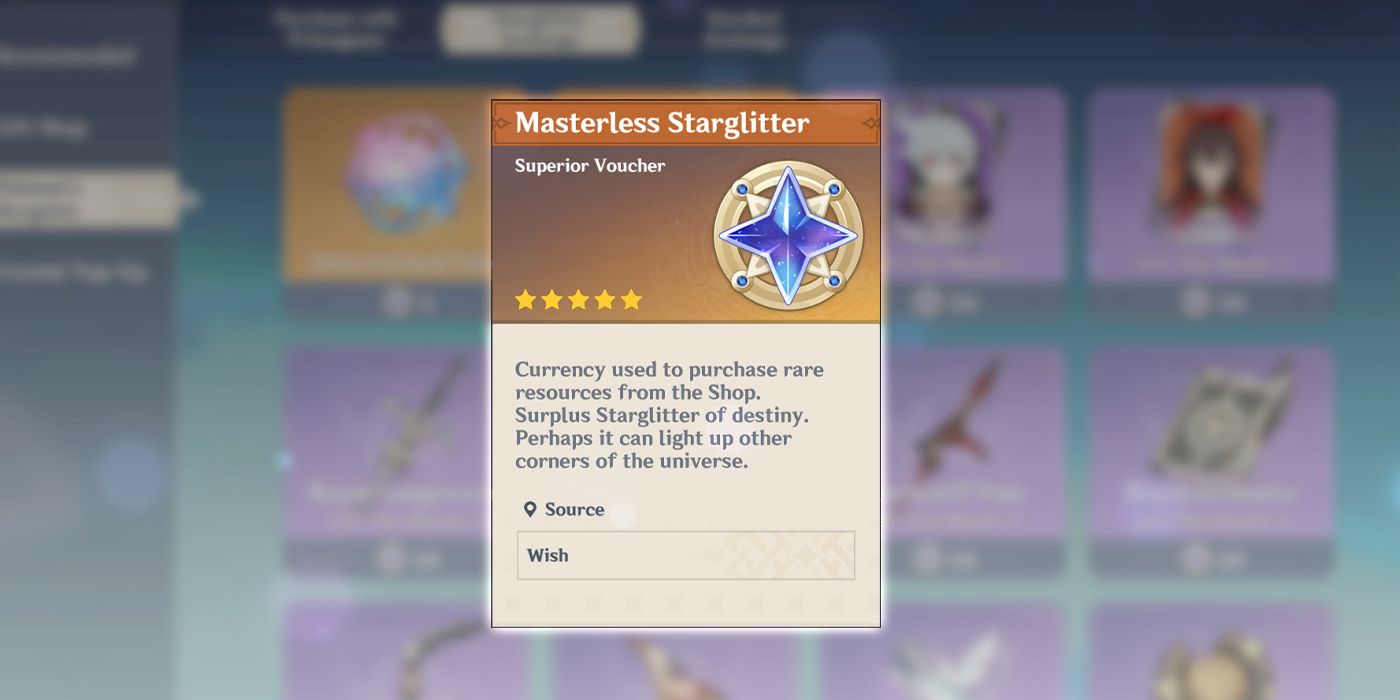 Genshin Impact's rarest form of in-game currency is called Masterless Starglitter, and this guide will teach players how to get more of it.
If Genshin Impact has too much of anything, it is currencies. There is Mora which is Genshin Impact's most common currency. Then there are the far more valuable Primogems, which are just as easy to come by but in far fewer amounts. There is Genshin Impact's premium currency, Genesis Crystal, which can only be obtained via microtransactions. And lastly, there are the Masterless Stardust and Masterless Starglitter currencies which are the rarest currencies. However, Masterless Starglitter is the rarest by far.
Masterless Starglitter in Genshin Impact can be exchanged for Fates and Ascension Materials. However, this currency has a far better use as other valuable items can be obtained using Masterless Starglitter. Since Starglitter is hard to come by, players should spend the currency wisely and get the most value they can. As mentioned earlier, Masterless Starglitter can be exchanged for other materials in Genshin Impact; however, players should only consider purchasing other items if they've got plenty to spare.
Related: Genshin Impact Review: Must-Play Open World Magic
Each form of currency has its own specific use. Mora is used to pay for character upgrades, weapon levels, and items that can be purchased from NPCs. Primogems are used to buy gashapon tokens. Genesis Crystals are used to buy item bundles, but can also be turned into Primogems. And Masterless Starglitter and Stardust are used to purchase rare items from Paimon's shop. These items can be expensive, so players will want to save up as much as they can before spending any. Here is how to obtain Masterless Starglitter in Genshin Impact.
Obtaining Masterless Starglitter in Genshin Impact
There is only one way to obtain Masterless Starglitter, and that is by getting lucky and pulling 4-star and 5-star weapons and characters from Genshin Impact's gashapon system. Obtaining Masterless Stardust is a similar process, but except that every item pulled from the gashapon system will reward the player with Stardust. Players will earn more Starglitter if they pull a repeat 4/5 star item, but they are only guaranteed one 4-star item every ten pulls. Players can get lucky and pull multiple 4-star items in a batch of 10, but it's highly unlikely.
As such, the items obtained via using Masterless Starglitter are far more valuable than any other purchasable items. Players can even purchase new characters if they are patient and save up 34 Starglitter. For free-to-play players, this can take a long time to grind since each gashapon token costs 160 Primogems, and only 1-in-10 pulls are guaranteed to be 4-star or higher. For those who are willing to pay money for Primogems, the process of getting Starglitter may be quicker, but it will cost a pretty penny to go 34 Starglitter.
Other Uses for Masterless Starglitter
If players have already purchased a new character, any extra Masterless Starglitter can be exchanged with Intertwined Fates and Acquaint Fates. Each of these Fates can be acquired by players in exchange for five Masterless Starglitter. However, it's worth taking note that players should only exchange Masterless Starglitter if they have a lot to spare.
Alternatively, players can also exchange Starglitter with Ascension Materials in Genshin Impact, but it should only be done if players have a lot to spare. Since Ascension materials can be easily farmed in-game, players should only exchange Starglitter if they have plenty to spare and want to save time.
Next: Genshin Impact: Which Characters Are Best?
Genshin Impact is free-to-play on PS4, iOS, Android, and PC.
Genshin Impact Leaks: New Shortcut Wheel Explained
About The Author
Washington News Post Latest Breaking News, Headlines
Washington News Post|| World News||USA News||Washington||
Celebrity News||Movie Review