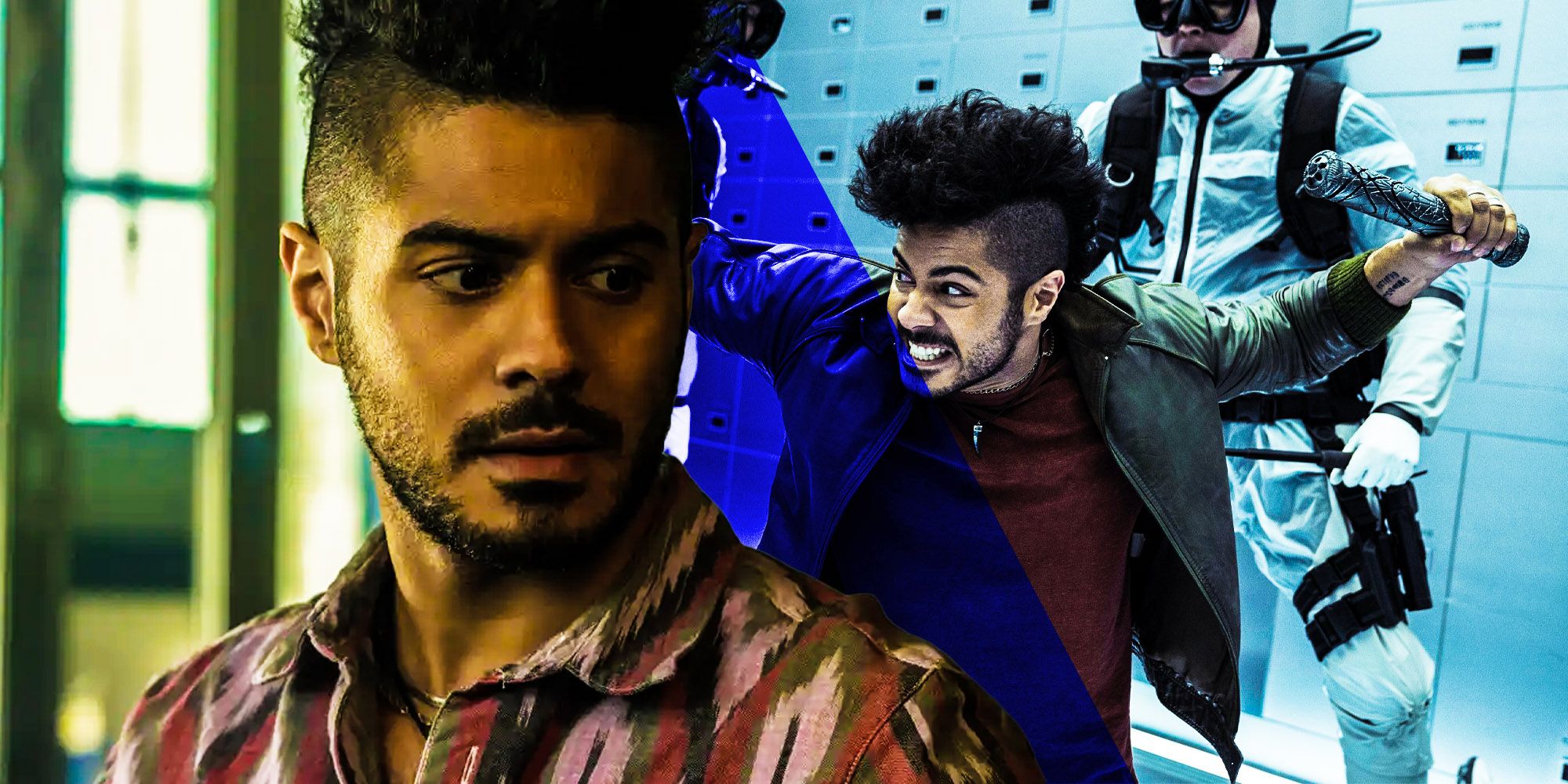 Hutch may not have powers, but he does have a power rod. Here's how the unique device he uses in Jupiter's Legacy works and where it came from.
Warning! Spoilers ahead for Jupiter's Legacy season 1. 
Jupiter's Legacy introduced Hutch Hutchence, the son of George Hutchence (aka, Skyfox), a con man who was on a mission to find his missing father. Unlike the rest of the superheroes in the series, Hutch didn't inherit the abilities of his father, who could fly, had superhuman strength, invulnerability, and telekinesis. To aid him, however, Hutch uses a device called the power rod that seems to be a replacement for having abilities.
In the superhero series, Hutch stands out among the other children of the founding Union members because he lives outside of the shadow of his father's legacy, primarily because no one really knows who he is. While Brandon and Petra have joined the Union and fight villains whenever necessary, Hutch doesn't have a connection to Sheldon Sampson (aka, The Utopian) and the rest of the team. Rather, he works various jobs for a crime boss named the Big Man, with Hutch relying on the power rod to successfully pull off his heists. 
Continue scrolling to keep reading
Click the button below to start this article in quick view.
Related: Jupiter's Legacy Cast, Characters & Powers Explained
In Jupiter's Legacy, Hutch employs the power rod to teleport in and out of locations, making it easier to grab something from a truck or a vault before safely returning to the comfort of his loft. All he has to do is command the power rod — something as simple as saying "that room" works, so long as he's looking at it right beforehand — and it does what he says. It's a great aid, except for the one time when he couldn't use his voice to teleport himself out of a sticky situation. What's more, it doesn't matter who happens to be holding the power rod. It only listens and responds to the sound of Hutch's voice and commands. All he has to do is say the word. This ensures that he always has control over it no matter who attempts to take it and no one can ever use it against him.
The existence of the power rod suggests that Hutch acquired it from somewhere and didn't make it himself, though the series doesn't allude to anything beyond that. The comics provide further details the show (likely to reveal in future seasons) leaves out about Hutch's power rod and how it works. In the pages of Jupiter's Legacy, it's confirmed that Skyfox created the power rod specifically for Hutch to use because he wasn't born with powers. The device is capable of replicating George's own powers — namely, his teleportation and energy blasts. Interestingly, the power rod doesn't work against The Utopian, though the reasons as to why that is are unclear. It's possible Skyfox didn't want it to be used against his oldest friend despite the animosity between them.   
Hutch's power rod also looks noticeably similar to Blue Bolt's version in Jupiter's Legacy, which was given to him on the island where he acquired his powers in 1932. The Netflix series doesn't dig any deeper, leaving the mystery surrounding Hutch's device to be further explored in season 2. However, considering Blue Bolt's whereabouts in the present day are currently unknown, it's possible Skyfox created Hutch's power rod to reflect that of his old teammate. Conversely, it could very well be Blue Bolt's same power rod, altered to duplicate Skyfox's powers for Hutch's use. Ultimately, Hutch's power rod is an extension of him in many ways and is a crucial component to his operations in Jupiter's Legacy.  
Next: Every Sci-Fi Movie & TV Show Streaming In May 2021
New Girl: How Reagan References Megan Fox's Jennifer's Body Role