Movie/tv News
Keeping Up With The Kardashians: Kylie Jenner Plastic Surgery Timeline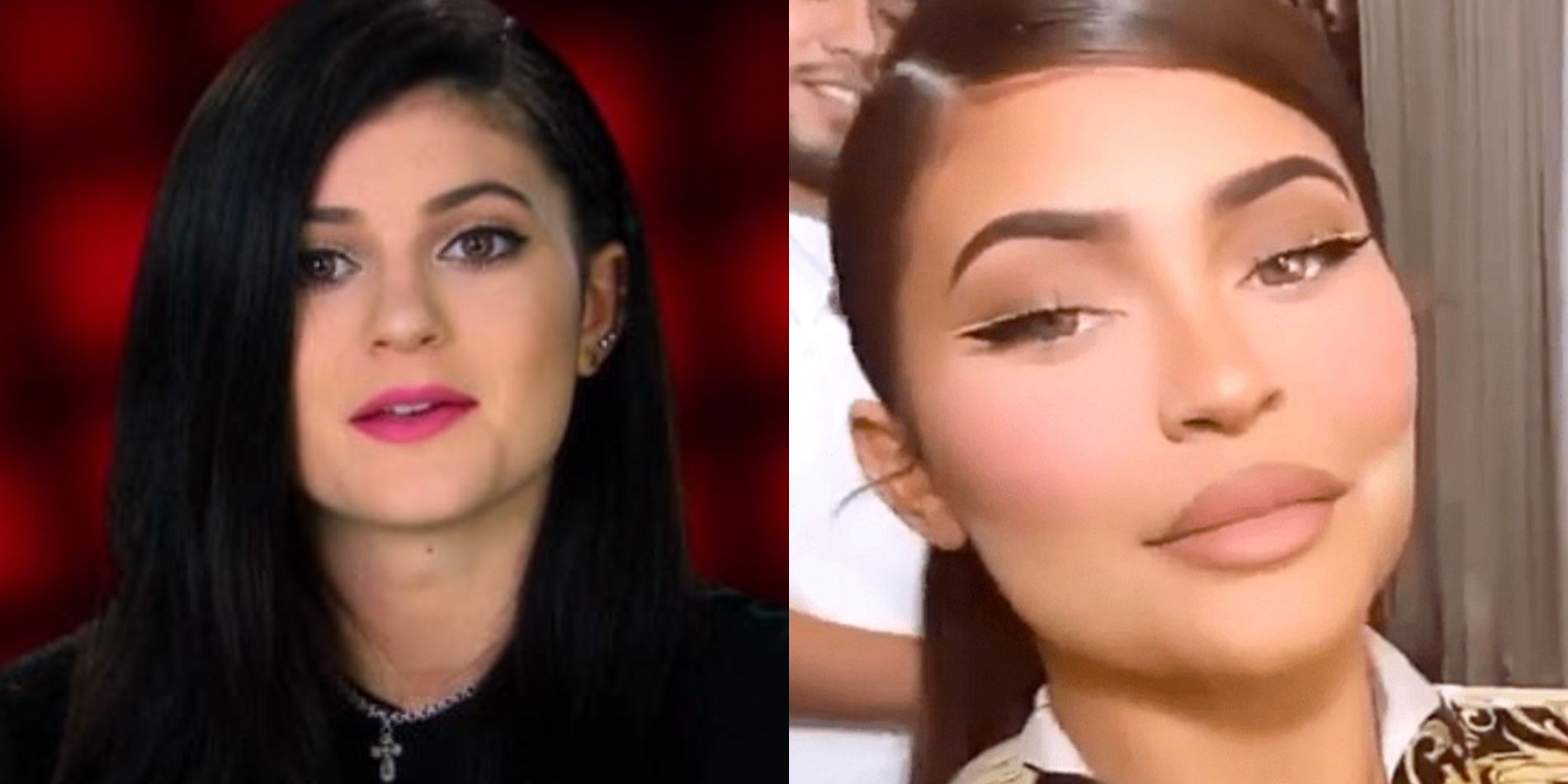 The Keeping Up with the Kardashians family is known for being fans of plastic surgery and cosmetic enhancements. There have been times where the youngest of the family, Kylie Jenner, shared certain pictures on social media that led the fans to believe she had cheek implants or fillers done. The makeup mogul is known for enhancing her looks from time to time, but exactly what plastic surgery has Kylie Jenner had done?
Related: Why Twitter Can't Stop Talking About Kylie Jenner's Cheeks
According to Safety in Beauty, Kylie Jenner's plastic surgery journey began when she was 17 years old. The first cosmetic procedure the Kylie Cosmetics founder received was lip fillers. Over time, however, Kylie's body appeared to change. Her nose became slimmer, her buttocks became rounder, and her bust grew significantly. In 2019, Kylie did an interview with Paper where she combatted some rumors, "People think I fully went under the knife and completely reconstructed my face, which is completely false." However, fans find her changes in appearance to be quite inexplicable otherwise. All in all, experts also have a hard time believing Kylie after looking at her pictures.
Kylie Admits To Lip Fillers
One of the most notable things about Kylie Jenner's change in appearance over the years is her lips. For a long time, the Kylie Cosmetics founder denied that she had lip fillers or received any cosmetic lip procedures. But after much speculation, Kylie finally came clean during an episode of Life of Kylie. The makeup mogul said, "I was 15 and I was insecure about my lips. I have really small lips. And it was like one of my first kisses and a guy was like, 'I didn't think you would be a good kisser because you have such small lips.'" she said. His words affected Kylie deeply, which led her to fillers. Kylie then explained, "I would over-line my lips with the lip liner to create the illusion of bigger lips and then, finally, I was like, this lip liner isn't doing it and ended up getting my lips done." 
Around July 2018, Harpers Bazaar reported that Kylie removed her lip fillers. In the Instagram photo above with her best friend, Kylie's lips look smaller when compared to other photos taken around that time — but it didn't last long. The reality TV star quickly went back on her decision. After a few months, she reportedly got her lips touched up and thanked her doctor for doing so. Today, they have more volume than ever.
Kylie Has Never Admitted To Rhinoplasty
When Kylie Jenner was younger, her nose was somewhat thicker in the middle. This can be clearly seen in older pictures that she has on Instagram. Today, Kylie's nose is significantly thinner which leads people to believe that Kylie Jenner's surgery list includes rhinoplasty. Insider noted that Kylie denies major surgical changes, saying, "I'm terrified! I would never. They don't understand what good hair and makeup and, like, fillers, can really do."
Kylie Claims She Uses A Nice Bra Instead Of Getting A Breast Argumentation
Back in 2015, Kylie's breasts became noticeably bigger, making fans wonder if she had a breast argumentation. At that time, the reality TV star would've been 17 or 18 years old. With that in mind, many scratched their heads as to how she could've changed that much as a result of puberty in less than a year. Nonetheless, the Kylie Cosmetics founder denied having any work done to her breasts.
Related: All the Signs Kylie Jenner Has Breast Implants
Kylie claims that when she isn't wearing a bra, she uses tape to hold up her bust. In a video, Kylie said, "I don't really share this with a lot of people, but everyone thinks I've gotten a breast augmentation recently. I haven't. I just use the Bombshell by Victoria's Secret." Despite Kylie's attempt at providing a justification for her curves, there is a noticeable increase in size. Plastic surgeon, Dr. Andrea Giannitrapani, sat down with Elle and gave his professional opinion on Kylie's changing look. "There is a clear size increase to Kylie's breasts," he said. He continued, "They have the characteristics of a breast enlargement in the early stages of healing and look as though they still need time to settle."
She Has Also Denied A Buttock Augmentation
Over the years, Kylie Jenner's body has become more curvaceous on top and on the bottom. Her curves were on full display for Cardi B's song "Wap." She has repeatedly stated that her changing body is due to puberty and that the world is judging her for simply growing up and becoming an adult. In 2016, Kylie said in a video according to US Magazine, "[I haven't had] a*s implants." She continued, "You know, I used to be 120 [pounds]. I was really skinny. Now I'm pushing, like, 136. But it's all right, I like the chunkiness." With that said, it is pretty undeniable that Kylie's derriere area has gotten a lot bigger at the same time that her waist only has gotten smaller. 
The makeup mogul has admitted to using waist trainers, just like her sisters Kim, Khloé, and Kourtney. Overall, there is no scientific evidence proving that waist trainers actually help with weight loss. However, the Kardashian-Jenner family members are reportedly all fond of using these waist trainers to help slim their core. Plastic Surgeon, Dr. Lyle Beck, told Hollywood Life that Kylie's bum could have had work done. "Essentially none of these possible factors are in support of Kylie's current buttock shape and size by any 'natural means.'" Beck explained that to get that round of a bottom (with a small waist) in such a short time frame, Kylie would have to live at the gym and eat a high-calorie diet. Generally, specialists in the field speculate that she transferred body fat from certain places to other places, thus enhancing her hourglass shape.
Other Possible Enhancements
Just like the other members of the Kardashian-Jenner clan, Kylie is also fond of using other enhancements to manipulate her appearance. To name a few examples, she dyes her hair, gets nail extensions, uses wigs, and, of course, she's a makeup expert. Even though these things are not permanent changes to her body, they do allow her to portray a certain look that is unique and distinct. 
Next: Keeping Up with the Kardashians: Kendall Jenner Plastic Surgery Facts
Source: Kylie Jenner's Instagram, Safety in Beauty, Hollywood Life, Insider, Elle, Harpers Bazaar,
90 Day Fiancé: Evelin Called Out For Finding New Reason To Divorce Corey
About The Author
Washington News Post Latest Breaking News, Headlines
Washington News Post|| World News||USA News||Washington||
Celebrity News||Movie Review