Movie/tv News
Last Night In Soho: 10 Upcoming Projects Featuring The Cast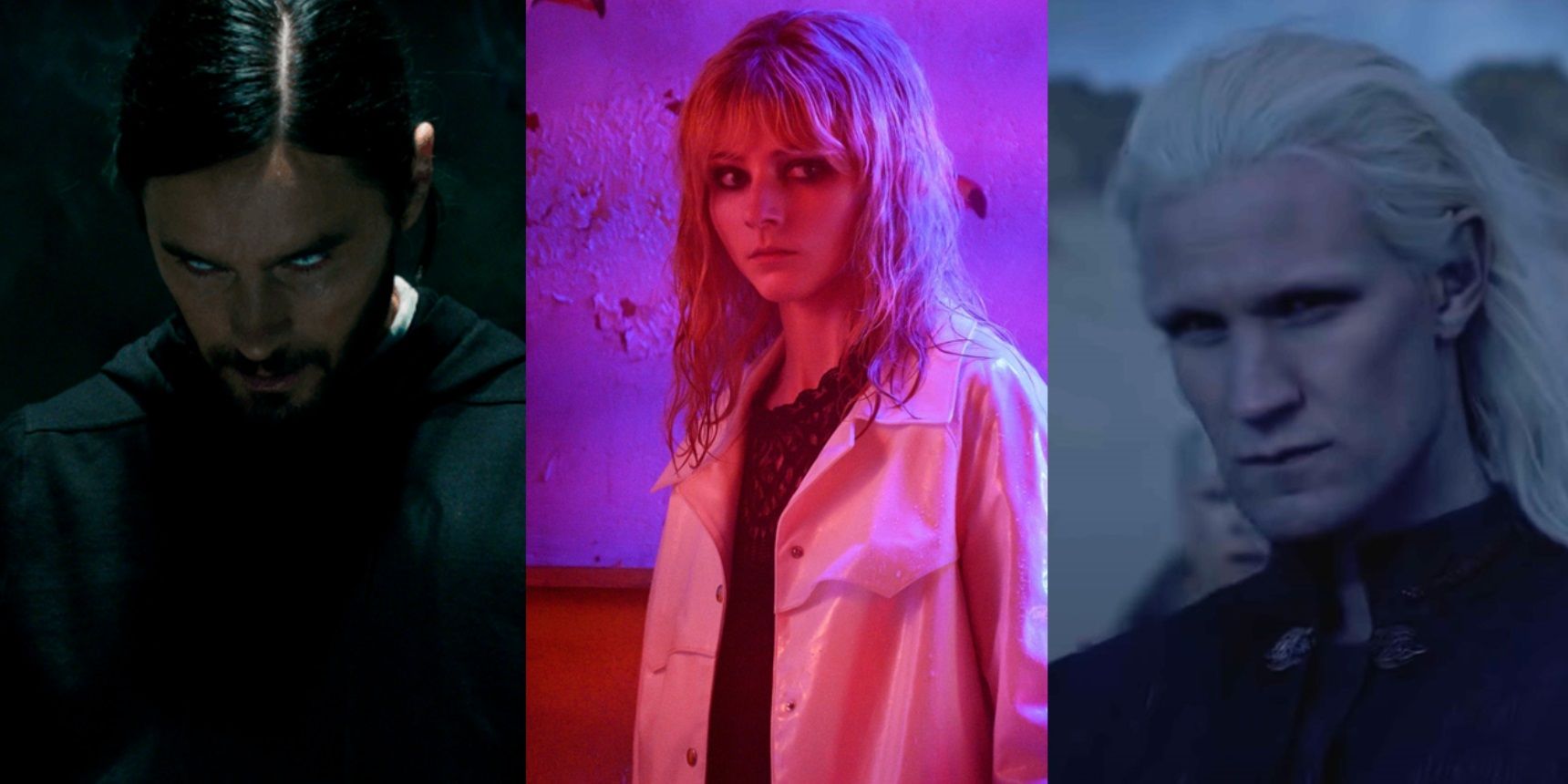 Edgar Wright's Last Night in Soho has divided critics with inconsistent pacing, over-the-top scares, and a final twist that undermines the central themes. But one aspect of the film that's been universally praised is its cast. Thomasin McKenzie, Anya Taylor-Joy, and Matt Smith all give phenomenal performances in the movie, as do their supporting co-stars.
RELATED: 10 Edgar Wright Trademarks In Last Night In Soho
Between them, the cast of Last Night in Soho has some interesting projects on the horizon, from a Mario cartoon to a Game of Thrones prequel to a Marvel vampire movie.
10

Anya Taylor-Joy – Mario (December 21, 2022)
While Anya Taylor-Joy is primarily a "scream queen" known for her roles in horror films like The Witch, Split, and indeed Last Night in Soho, she's signed on to appear in a movie that couldn't be further from the horror genre: an as-yet-untitled computer-animated adaptation of the Mario games.
Rumored to be a springboard for a Mario cinematic universe, this movie will feature the voices of Taylor-Joy as Princess Peach, Chris Pratt as Mario, Charlie Day as Luigi, Jack Black as Bowser, Keegan-Michael Key as Toad, and Seth Rogen as Donkey Kong. It's set to be released on December 21, 2022.
9

Thomasin McKenzie – Life After Life (TBD)
Following her breakout role as a Jewish refugee in Taika Waititi's World War II satire Jojo Rabbit, Thomasin McKenzie takes center stage as the protagonist Eloise Turner in Last Night in Soho.
Prior to the movie's release, she was cast as the lead in a BBC TV adaptation of Kate Atkinson's novel Life After Life. The book follows dual Sliding Doors narratives based on whether or not a child named Ursula Todd (McKenzie) is stillborn one night in 1910.
8

Jessie Mei Li – Shadow And Bone Season 2 (TBD)
Jessie Mei Li, who plays the minor role of Lara in Last Night in Soho, is better known for playing the lead role of Alina Starkov in the Netflix fantasy series Shadow and Bone. The show is adapted from two series of books in Leigh Bardugo's Grishaverse.
The second season, like the first, will consist of eight episodes. The season is based on 2013's Siege and Storm and the writers are incorporating an original story thread revolving around the Crows.
7

Anya Taylor-Joy – The Menu (TBD)
Taylor-Joy is starring alongside Nicholas Hoult in the darkly comic thriller The Menu as a young couple who travel to an exclusive restaurant on a remote island where they're in for a few surprises.
RELATED: Every Last Night In Soho Actor's Best Movie, According To IMDb
This twisty thriller sounds closer to Taylor-Joy's horror roots than Mario. She and Hoult will lead an ensemble cast that includes Ralph Fiennes, John Leguizamo, and Aimee Carrero. Anchorman director Adam McKay is credited as a producer on the movie, which doesn't yet have an official release date.
6

Matt Smith – Morbius (January 28, 2022)
Matt Smith is following up Last Night in Soho with Morbius, a new Marvel supervillain movie set in Sony's Venom universe (which may or may not now be the same as the MCU). Jared Leto will star as Morbius the Living Vampire, who transforms into a vampire while attempting to cure his rare blood disease.
Smith will play Loxias Crown, a friend of Morbius' with the same rare blood disease. After various pandemic-related delays, the movie is set to hit theaters on January 28, 2022.
5

Sam Claflin – Daisy Jones & The Six (TBD)
Sam Claflin cameos as a young Lindsay in one of Last Night in Soho's '60s-set sequences. Claflin is set for a much larger role in Daisy Jones & the Six, a miniseries set to premiere on Amazon Prime.
Based on the book of the same name, Daisy Jones & the Six will chart the rise of a fictional L.A. rock band in the 1970s. It's being executive-produced by Reese Witherspoon and written by (500) Days of Summer's Scott Neustadter and Michael H. Weber.
4

Anya Taylor-Joy – The Northman (April 8, 2022)
Taylor-Joy is reuniting with The Witch director Robert Eggers for the historical revenge thriller The Northman. Set in Iceland at the beginning of the 10th century, The Northman stars Alexander Skarsgård as Viking prince Amleth, who seeks to avenge his father.
Skarsgård will be supported by Taylor-Joy, Nicole Kidman, Björk, and Willem Dafoe, who starred in Eggers' last movie The Lighthouse. The Northman is scheduled to be released on April 8, 2022.
3

Thomasin McKenzie – Perfect (TBD)
If Last Night in Soho proved anything, it's that Thomasin McKenzie can masterfully handle the pressures of leading a movie. Booksmart's Olivia Wilde has cast her to star in Perfect, a Kerri Strug biopic she's directing.
RELATED: 10 Behind-The-Scenes Facts About Last Night In Soho
Strug is a retired gymnast who famously managed to perform the vault with an ankle injury. She had to be carried to the podium by her coach, Béla Károlyi, which will surely make for a glorious cinematic moment in this biopic.
2

Matt Smith – House Of The Dragon (2022)
After the runaway success of Game of Thrones (shaky final season aside), HBO is eager to stay in the Westeros business. The first of several GoT spin-offs to come to fruition, House of the Dragon, is a prequel set 200 years before the mainline series. Based on George R.R. Martin's 2018 novel Fire & Blood, the series will chronicle the fall of House Targaryen.
HBO has given a straight-to-series order to House of the Dragon. Its 10-episode first season is set to premiere sometime in 2022. Matt Smith will play Prince Daemon Targaryen, the heir presumptive to the Iron Throne.
1

Anya Taylor-Joy – Untitled David O. Russell Movie (November 4, 2022)
David O. Russell – best known for Three Kings, The Fighter, and Silver Linings Playbook – is currently working on an untitled historical movie set for release on November 4, 2022.
The plot is being kept under wraps, but Taylor-Joy is part of a sprawling star-studded ensemble that includes Christian Bale, Robert De Niro, Rami Malek, Mike Myers, Timothy Olyphant, Margot Robbie, Chris Rock, Zoe Saldana, Taylor Swift, and John David Washington.
NEXT: 10 Upcoming Projects Featuring The Cast Of The French Dispatch

Next
10 Best Monsters In DC Comics, Ranked

About The Author
Washington News Post Latest Breaking News, Headlines
Washington News Post|| World News||USA News||Washington||
Celebrity News||Movie Review