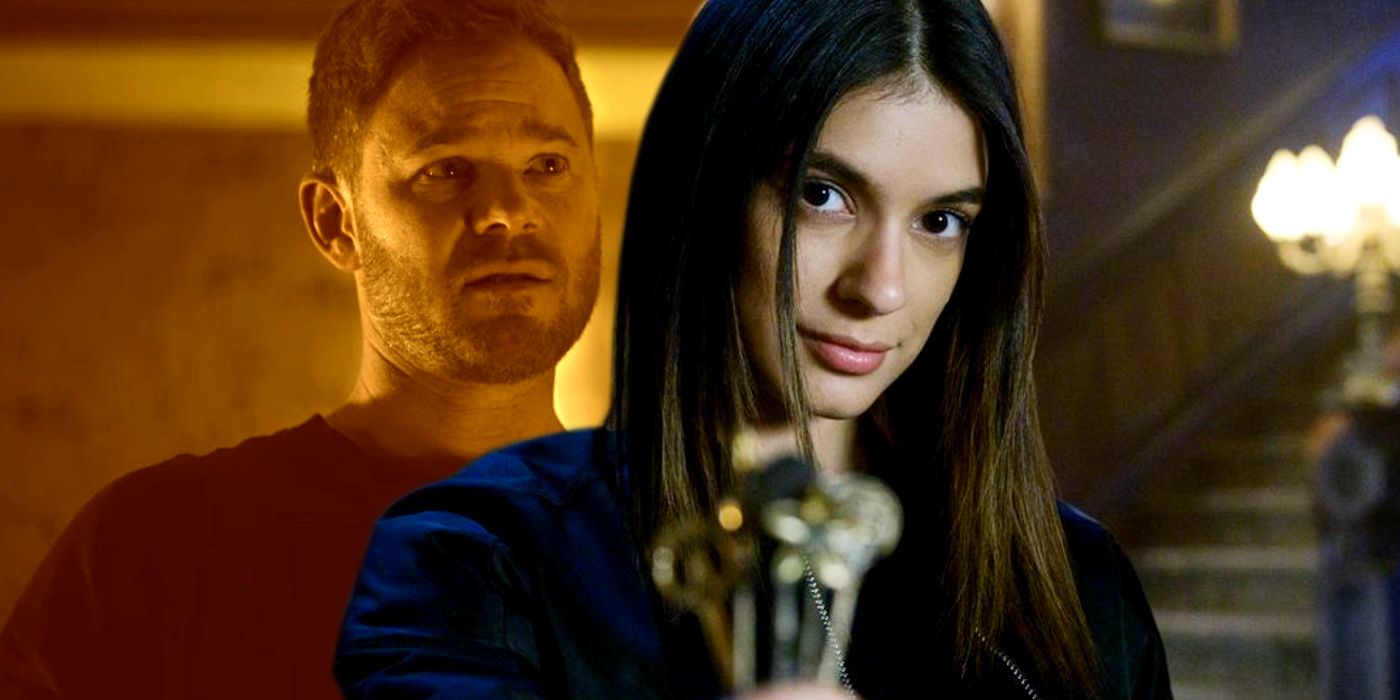 Netflix's hit TV series Locke & Key returns for season 2; here's your guide to the main cast and characters, including several who've stepped up!
There's an updated cast for Locke & Key season 2; here's our character guide (including cameos). Inspired by the comics by Joe Hill and Gabriel Rodriguez, Netflix's Locke & Key is a supernatural adventure in which a group of children discovers they have inherited the role of Keepers of the Keys — protectors of magical keys sought after by demonic enemies.
Locke & Key season 1 was a hit for Netflix; season 2 builds upon that story, promoting a number of secondary characters into major roles. The streaming giant has already signed off on season 3, which wrapped production in August 2021. That means viewers can be confident there will be more adventures in the Keyhouse, with the Locke family facing further demon threats — and undoubtedly uncovering several more magical keys.
Related: Every Horror Movie & TV Show Coming To Netflix For Halloween 2021
Locke & Key features a top-rate cast, and season 2 expands upon this by introducing a number of key new characters who are sure to become real fan favorites. Here's your guide to the cast and crew of Locke & Key season 2.
Jackson Robert Scott is Bodie Locke
Best known for his breakout role in the remake of Stephen King's IT, Jackson Robert Scott has also appeared in Fear the Walking Dead and Criminal Minds. In Locke & Key, he plays Bode Locke, the youngest member of the family and the one most receptive to magic. Bode has been quite an isolated child, escaping into the fantasy world of magic, but in Locke & Key season 2, he finally makes friends.
Emilia Jones is Kinsey Locke
Emilia Jones is a talented theater performer who's played in major productions of Turn of the Screw, Far Away at the Young Vic, and Shrek the Musical. Her television roles include appearances in Doctor Who and Utopia, but Locke & Key is her most high-profile one to date. Jones plays Kinsey, the Locke daughter whose life is destined to become even more complicated in Locke & Key season 2 given she has no idea she's dating a demon.
Connor Jessup is Tyler Locke
Canadian actor Connor Jessup is best known for playing Ben Mason in Falling Skies and Taylor Blaine in American Crime. An accomplished writer and producer, he runs a production company, Big & Quiet Pictures, with producer Ashley Shields-Muir. In Locke & Key Jessup plays Taylor Locke, the oldest of the Locke children, who faces the challenge of balancing a world of magic with his desire for a real life.
Related: Netflix: Every Movie and TV Show Releasing In October 2021
Darby Stanchfield is Nina Locke
Niece of legendary Disney animator Walt Stanchfield, Darby Stanchfield is an accomplished actress who's best known for playing Abby Whelan in Shonda Rhimes' hit show Scandal but has also appeared in numerous other Shondaland titles. In Locke & Key she plays Nina Locke, mother to the Locke children who brought them to the Keyhouse in the hopes of finding answers after the tragic murder of her husband. Unfortunately, Nina is the one person unable to get answers because in Locke & Key, adults are unable to retain the memories of magic. Still, she's settled down and is building a new life — and in Locke & Key season 2 she finally moves beyond her grief.
Aaron Ashmore is Duncan Locke
Duncan Locke was something of a background character in Locke & Key season 1, but he's upgraded to a major role in season 2. Locke & Key season 2 explores Duncan's history as one of the original Keepers of the Keys, finally confronting him with the memories that had been stolen from him. The character is played by Smallville alumni Aaron Ashmore, twin brother to Shawn Ashmore.
Griffin Gluck is Gabe
Another background character in Locke & Key season 1, Gabe became Kinsey's boyfriend — but, as the dramatic season 1 finale revealed, he is an alter ego of the demon Dodge, created using the Identity Key. He's the central villain of Locke & Key season 2, played by celebrated young artist Griffin Gluck (Just Go With It, Private Practice, American School). The role gives Gluck the perfect opportunity to demonstrate his skill as a ruthless antagonist.
Other Cast & Characters In Locke & Key Season 2
In addition, Locke & Key features a wide range of supporting actors.
Petrice Jones: (Lucky Man, Step Up: High Water, Boy) Kinsey's boyfriend Scot.
Genevieve Kang: (Jett, Impulse, The Crossword Mysteries) Tyler's girlfriend Jackie.
Brendan Hines: (Secrets & Lies, The Tick, MacGuyver) Josh Bennett, an unexpected love interest for Nina.
Liyou Abere: (The Boys, Blue's Clues & You) Bode's new friend Jamie.
Lasla De Oliveira: (iZombie, The Gifted) Dodge, the demon haunting the Lockes.
More: Locke & Key Had A Cameo For Tom Savini: His Role Explained
90 Day Fiancé: Tania Shares Her History With Domestic Violence & Abuse
About The Author
Washington News Post Latest Breaking News, Headlines
Washington News Post|| World News||USA News||Washington||
Celebrity News||Movie Review