Movie/tv News
Lost: 10 Projects Cast Members Worked On Together Outside The Show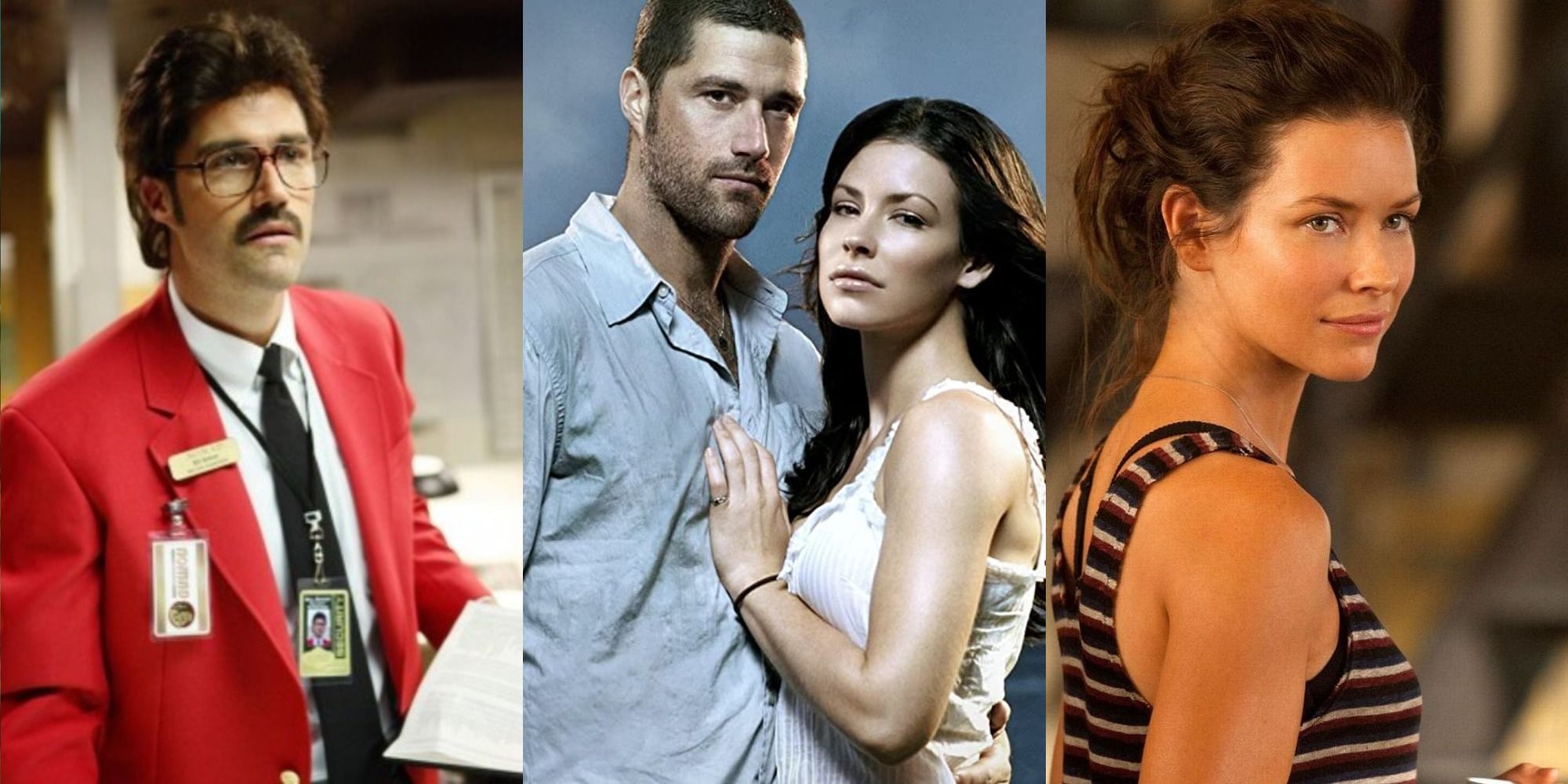 Along with its constant mysteries, fans of Lost stayed hooked to the show thanks to its exciting cast of characters. While many of the actors of the show are tied to these famous characters, they have also gone on to many different projects. And with such a massive ensemble, some of these actors have ended up crossing paths elsewhere.
RELATED: 10 Fan Favorite Lost Characters, According To Reddit
From big-screen adventures to other television series, these actors shared the screen outside of the Darma Initiative and its wacky island. And even if it was only a small Lost reunion, it is fun to see these cast members working together again.
10

Dominic Monaghan & Kevin Durand  – X-Men: Origins Wolverine (2009)
Given how much the comic book movie genre has grown since Lost ended, it's not surprising that some cast members have stepped into these superhero stories. Dominic Monaghan and Kevin Durand ended up appearing together in Hugh Jackman's first solo movie as Wolverine.
Monaghan became a fan-favorite on Lost as the charming and heroic Charlie. In X-Men: Origins Wolverine, he ended up playing a mutant called Bolt who could control electric devices. Durand played the sadistic mercenary Martin Keamy on Lost but got to play a more comedic villain as Blob in the X-Men movie.
9

Michelle Rodriguez, Jeff Fahey & Cheech Marin – Machete (2010)
It is interesting to note that while none of the three ever appeared on screen together in Lost, Michelle Rodriguez, Jeff Fahey, and Cheech Marin all ended up in the wild grindhouse-inspired Machete.
The movie stars Danny Trejo as a man hired to kill a corrupt senator only to be double-crossed by the people who hired him. Michelle Rodriguez, who played Ana Lucia on Lost, played Machete's ally. Fahey, who played Frank Lapidus on Lost, played the man who hires Machete. And Cheech Marin, who played Hurley's father on Lost, played Machete's brother.
8

Adewale Akinnuoye-Agbaje & Maggie Grace – Faster (2010)
Both Adewale Akinnuoye-Agbaje and Maggie Grace had relatively short times on Lost, but their characters made fairly substantial impacts. Akinnuoye-Agbaje played the mysterious Mr. Echo while Grace was part of the original cast as Shannon.
They both starred alongside Dwayne Johnson in Faster. The crime movie had Johnson playing an ex-convict seeking revenge on the people who wronged him. Akinnuoye-Agbaje played one of the people on Johnson's revenge list while Grace played the girlfriend of an assassin hunting Johnson down.
7

Harold Perrineau & Josh Holloway – Sabotage (2014)
Michael and Sawyer didn't exactly become fast friends when stuck together on the island. However, the end of season 1 found them joining forces to construct a boat and attempt to leave the island. Actors Harold Perrineau and Josh Holloway found themselves together in another intense and dangerous situation in Sabotage.
RELATED: The 10 Most Heartwarming Moments On Lost
The action movie stars Arnold Schwarzenegger as the leader of a group of DEA agents who are killed off one by one after stealing drug money. Perrineau plays a cop investigating the murders and Holloway plays a member of Schwarzenegger's team.
6

Kevin Durand & Evangeline Lilly – Real Steel (2011)
After starring alongside Hugh Jackman in the Wolverine movie, Kevin Durand met up with him again on the big screen in the family-friendly sci-fi adventure movie Real Steel. Like his role in Lost, Durand took the villain role as a fighting promoter Jackman owes money to.
Durand was joined in Real Steel by another Lost co-star with Evangeline Lilly. After playing the badass outlaw-turned-hero Kate on Lost, Lilly played Jackman's love interest in this robot boxing story.
5

Naveen Andrews & Jeff Fahey – Planet Terror (2007)
When Robert Rodriguez and Quentin Tarantino teamed up for the ambitious two-part movie Grindhouse, Rodriguez contributed his wild take on the "zombie" movie genre with Planet Terror. Along with a terrific cast including Josh Brolin and Bruce Willis, the movie featured some fun Lost alumni.
Naveen Andrews was the stoic and reserved Sayed on Lost, but he got to have a little more fun as the rogue scientist in Planet Terror. And before reteaming with Rodriguez in Machete, Jeff Fahey played a local bar owner who becomes a hero in the zombie outbreak.
4

Michael Emerson & Ken Leung – Saw (2004)
While the Saw series has become one of the longest-running horror franchises of all time, it was the first installment that included two prominent Lost cast members. Michael Emerson made for one of the most memorable television villains as Ben Linus on Lost while Ken Leung was a memorable later addition as Miles, a member of the team sent to the island to capture Ben.
In Saw, Leung played Detective Sing, one of the homicide detectives investigating the Jigsaw murders. Emerson played Zepp, a red herring meant to appear to be the real Jigsaw.
3

Jorge Garcia & Henry Ian Cusick – MacGyver (2016-2021)
As Lost co-stars have moved on to other shows, it seems like many of them look for opportunities to have a reunion of sorts in a new story. Such was the case with Jorge Garcia and Henry Ian Cusick, two fan-favorites from Lost, who met up again on the remake series of MacGyver.
RELATED: 9 Ways The Pilot Of Lost Is Still The Best
With Garcia playing the lovable Hurley and Cusick playing the tragic Desmond, they were responsible for some of the best moments on Lost. To see them share the screen again as Garcia guest-starred on Cusick's McGyver was a real treat.
2

Nestor Carbonell, Kevin Durand & Matthew Fox – Smokin' Aces (2006)
The action movie Smokin' Aces is a wild ride about several assassins, bounty hunters, and lawmen converging on the same target, leading to violent chaos. The movie features a terrific ensemble, including Ben Affleck, Taraji P. Henson, and Chris Pine. It also features a trio of Lost actors.
Once again Kevin Durand plays a bad guy as a sadistic neo-Nazi assassin. Nestor Carbonell, who played Richard Alpert on Lost, plays a compassionate assassin. And Matthew Fox, who starred on Lost as Jack Shepard, plays a security guard who shares a memorable and surprising scene with Carbonell.
1

Daniel Dae Kim, Jorge Garcia & Terry O'Quinn – Hawaii Five-O (2010-2020)
Much of the filming for Lost was done in Hawaii and it seems like the location was a big hit with several of the cast members as they returned for the remake series of Hawaii Five-0. The cop series first cast Daniel Dae Kim, who played Jin on Lost, as Chin Ho Kelly.
Kim was later joined by other former co-stars, Jorge Garcia and Terry O'Quinn. Garcia joined the show in its fourth season as Jerry Ortega. O'Quinn, who played Locke on Lost, had a recurring role as Joe White on Hawaii Five-0.
NEXT: Lost Main Characters, Ranked Least To Most Likely To Win Squid Game

Next
Harry Potter: 10 Unpopular Opinions About Lupin (According To Reddit)

About The Author
Washington News Post Latest Breaking News, Headlines
Washington News Post|| World News||USA News||Washington||
Celebrity News||Movie Review