Movie/tv News
Ranking Every Samuel L. Jackson Character In A Quentin Tarantino Movie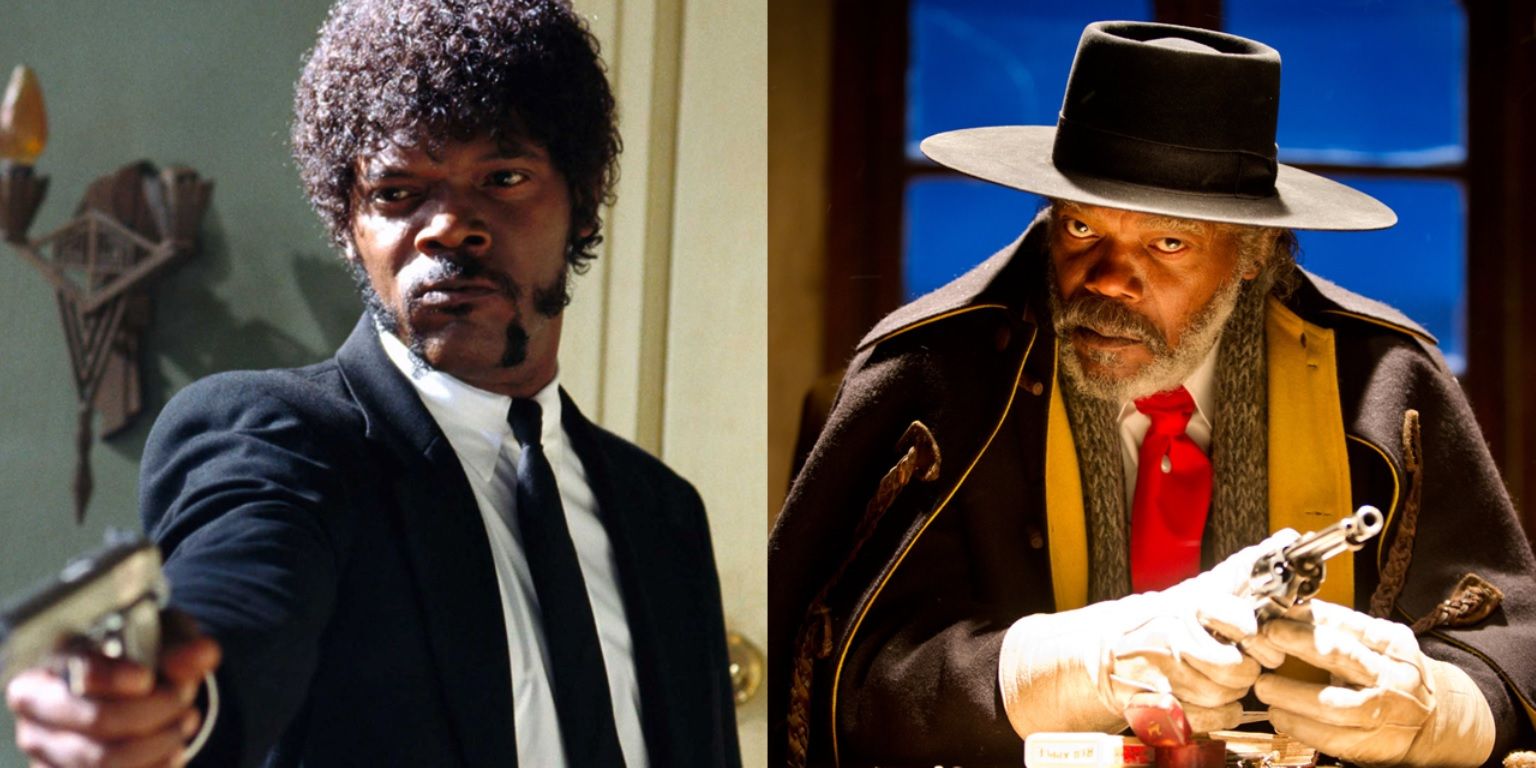 No one can handle the explosive poetry of Quentin Tarantino's dialogue like Samuel L. Jackson can. Ever since his Oscar-nominated monologues in Pulp Fiction, Jackson has been the ultimate Tarantino actor. The director has many other great collaborators, from Uma Thurman to Christoph Waltz, but there's a special synergy between Tarantino's filmmaking and Jackson's acting.
RELATED: Samuel L. Jackson & 9 Other Actors Who Need To Be In Tarantino's Final Movie
With any luck, Tarantino can find a role for Jackson in his upcoming tenth and final feature. From a mob hitman to a gun runner to a post-Civil War bounty hunter, Jackson has played a bunch of unforgettable roles in Tarantino movies over the years. Even his cameo appearances are memorable.
7

Organ Player (Kill Bill: Volume 2)
Jackson's role in Kill Bill: Volume 2 is just a cameo appearance. During the flashback scene in which the Bride is planning her wedding with the groom, his family, and a bunch of their friends, Jackson appears as the organ player. Naturally, considering he only shows up in one scene, this role is on the less iconic end of the spectrum.
Some Tarantino fans have theorized that the organ player is actually Jules after the end of Pulp Fiction when he gave up a life of crime to "wander the Earth." It's feasible that after quitting his job with Marsellus, Jules would end up playing the organ in a dusty church in the middle of the desert.
6

Narrator (Inglourious Basterds)
Jackson didn't appear on-screen in Tarantino's World War II epic Inglourious Basterds, but he did lend his glorious voice to the on-and-off voiceover narration. The unmistakable voice of Samuel L. Jackson makes long explanations of key plot points like the flammability of film stock surprisingly compelling.
Of the two Tarantino regulars that make vocal cameos in Inglourious Basterds – Harvey Keitel plays the O.S.S. commander who negotiates Landa's terms for ending the war – Jackson's role as the narrator is the most noticeable on rewatches.
5

Big Don (True Romance)
Technically, True Romance is a Tony Scott movie, but Scott directed it from an early screenplay by Tarantino. Christian Slater and Patricia Arquette headline the movie as lovers on the run in the mold of Bonnie and Clyde, while Gary Oldman plays the sadistic villain, Drexl Spivey.
RELATED: 10 Tarantino Trademarks In True Romance
Jackson makes a brief early-career appearance as "Big Don," one of the gangsters present for Drexl's blood-soaked introduction. He only has a few lines before Drexl grabs his shotgun and clears the room, but Jackson's distinctive line deliveries offered an early sign that he was the perfect actor to deliver Tarantino's dialogue.
4

Major Marquis Warren (The Hateful Eight)
The whole point of The Hateful Eight's ensemble setup is that there are no stars. But if the movie does have a lead character, it's Major Marquis Warren, played by Jackson. The audience follows him from the beginning – the movie opens with Major Warren sitting atop his dead bounties, hailing a ride in a stagecoach – so they trust him the most.
As the titular octet is rounded out, Warren emerges as the story's Poirot figure. He silently figures out the mystery throughout the movie before revealing his findings in a captivating monologue (and if Jackson's work in Tarantino's filmography has proven anything, it's that he can handle a captivating monologue).
3

Stephen (Django Unchained)
Leonardo DiCaprio plays the primary antagonist in Django Unchained as the sinister Calvin Candie, but Jackson makes a brilliantly ominous foil for DiCaprio as the secondary villain, Stephen. Stephen is Calvin's house slave who practically raised him and remains his most trusted confidant.
The role of Stephen is a unique acting challenge. Most of the villains in Django Unchained are sadistic white slavers, but Stephen is a distinctively complex character because he's a slave who sides with the slavers.
2

Ordell Robbie (Jackie Brown)
Tarantino's only adaptation of previous source material – Jackie Brown, based on the Elmore Leonard novel Rum Punch – is also his most mature and underappreciated movie. Pam Grier stars as the titular flight attendant, who plays the cops and a gun runner against each other. Jackson provides strong support as the gun runner, Ordell Robbie.
RELATED: 10 Ways Jackie Brown Still Holds Up Today
Jackson played Ordell's duality masterfully. He's smooth and charming when he's trying to talk his way out of something, but he can turn cold-hearted and sadistic on a dime if he's been betrayed. When he kills Beaumont, he feels nothing.
1

Jules Winnfield (Pulp Fiction)
Tarantino has given Jackson a ton of great roles over the years, but none of them have topped the first one: mob hitman Jules Winnfield in Pulp Fiction. Jackson masterfully tapped into the uniquely pitch-black comedic tone of the movie. He shared impeccable chemistry with John Travolta as fellow hitman Vincent Vega and delivered a handful of the most memorable monologues of all time, like his Ezekiel 25:17 recital.
The role of Jules required Jackson to convey both dry hilarity ("Oh, I'm sorry, did I break your concentration?") and dramatic nuance ("I'm trying, Ringo, I'm trying real hard to be the shepherd") and he nailed both sides of the character. He's a pulp archetype with quotable one-liners, but Jackson managed to make him a three-dimensional human being.
NEXT: Ranking Every Leonardo DiCaprio Character In A Martin Scorsese Movie

Next
Tick, Tick… Boom!: The 10 Smartest Characters

About The Author
Washington News Post Latest Breaking News, Headlines
Washington News Post|| World News||USA News||Washington||
Celebrity News||Movie Review