Movie/tv News
Rick and Morty: Evil Morty History & Backstory, Explained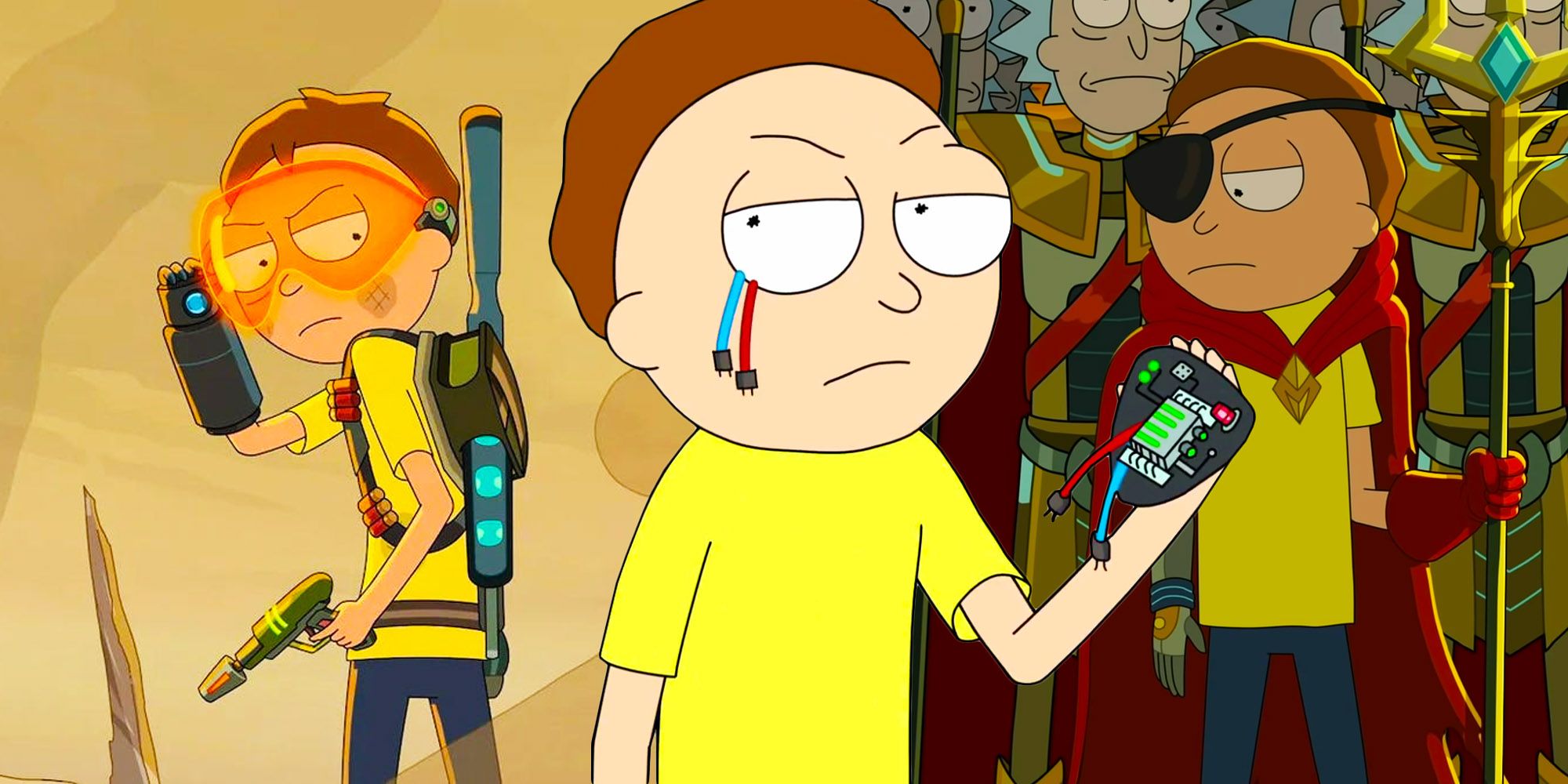 [ad_1]
Evil Morty is the closest thing Rick and Morty has ever had to a main series villain, but how often has he appeared in the show, and what is his backstory? Rick and Morty season 5 concluded with a series of long-anticipated reveals about the plans and goals of Evil Morty, explaining why he has gone to the lengths he has over the course of the show. Evil Morty is one of the most interesting characters in the series, acting not only as a foil to Morty "prime" but also as a reminder that this could be how C-132 Morty ends up. Yet, little was known about Evil Morty until season 5.
Evil Morty's first appearance did explain a little more about him, but it's understandable that viewers may have forgotten the events that introduced him. Not everyone will remember that Evil Morty's first appearance actually happened back in Rick and Morty season 1. Due to the huge time gaps between Evil Morty's separate appearances, understanding how Evil Morty's motivations led up to the Rick and Morty season 5 finale can be difficult. To help, here is every appearance of Evil Morty and his backstory thus far.
Related: Rick & Morty: 1 Voice Actor Trick May Secretly Reveal Evil Morty's Origins
Evil Morty's Previous Rick and Morty Appearances
Evil Morty first appears in Rick and Morty season 1, episode 10, "Close Rick-counters Of The Rick Kind," though his true nature is only revealed at the end of the plot, as he hides behind an "evil" Rick that he is controlling. This twist ending garnered a huge response among viewers, but one that didn't equate to seeing Evil Morty anytime soon.
It would be another two seasons before he would appear again, this time in Rick and Morty season 3, episode 7. Here, Evil Morty would pick up a new title based on his accomplishments in the episode, becoming President Morty and leader of the Citadel of Ricks. Anyone aware of his true nature and criminal past deeds is quickly killed before the end of the episode, which for many suggested that the "evil" part of his storyline could be ending there — although this would later be proved wrong.
Interestingly, Evil Morty cameos in Rick and Morty season 4, episode 6, but this appearance is substantially less important compared to the others, as it is revealed that the events of this entire episode are imaginary, as a product of the Story Lord's elaborate tale weaving. With this in mind, the character's appearance seems more of a meta-joke about how many people wanted Evil Morty to appear again in the show than anything crucial in terms of the ongoing plot.
These wishes would finally be fulfilled in the Rick and Morty season 5 ending, which finally fleshed out Evil Morty beyond merely showing his schemes and alluding to what he may be after. Having gained a foothold on the Citadel by becoming President, Evil Morty uses this to scan the "main" Rick's brain, and use this scan — and the blended corpses of a series of clones — to escape the section of the universe the Ricks control.
Related: Rick & Morty Theory Reveals Evil Morty Caused Season 6's Biggest Threat
Evil Morty's Rick and Morty Backstory (Thus Far)
While Rick & Morty season 5 does reveal a lot about Evil Morty, it keeps one mystery: his origins. Though it's clear Evil Morty did have a Rick, and potentially his own version of the Smith family, what exactly prompted him to alter from the usual relatively happy-go-lucky Mortys to this more brutal and calculated one isn't fully clear.
The show will undoubtedly reveal more about the character's origin, especially after Rick and Morty season 6 teased Evil Morty's return. What is currently clear, however, is that Evil Morty's true origin is linked to him discovering the corrupt nature of Ricks and the Citadel of Ricks. He tells C-137 Morty in the Rick and Morty season 5 finale about the fact that Mortys are artificially prompted into existence by Ricks.
Evil Morty is also aware of the fact that Rick specifically crafted a corner of the multiverse blocked off from the rest containing the universes where Rick is the smartest person alive — known as the Central Finite Curve. These revelations alone could have pushed the character to make extreme plans in order to have a life under his own control.
From there, Evil Morty appears to have begun the work building the dome of Mortys to conceal his efforts, kidnapping and killing Ricks and Mortys to expand his arsenal and research. This brings to mind the fan theory that Evil Morty is actually Rick — or, at least another version of Rick that C-137 Rick has wronged in the past. In fact, C-137 Rick mentions in season 5 that Evil Morty is the only person who has ever managed to successfully hack his portal gun. Moreover, Evil Morty is shown to have some cybernetic parts, which could well have been crafted by Rick's own hands.
Related: Rick & Morty's Surprise Character Return Promises The Biggest Twist Yet
After his base was destroyed, Evil Morty was forced into hiding, getting rid of his classic evil eye patch to blend in with other Mortys, and beginning his next plan: to take over the Citadel. Though this is in many ways a very obvious ploy for power, it seems Evil Morty relied on the idea that Ricks naturally underestimate Mortys. After successfully sabotaging the Citadel — and building an elaborate device to counter the Central Finite Curve — Evil Morty successfully emerges in space. Though it's unclear where Evil Morty went in season 5, he presumably ended up in a universe without a Rick.
Evil Morty Will Return In Season 6
In the Rick and Morty season 5 finale, Evil Morty does brandish what appears to be an improved golden portal gun at the end of the episode, meaning he could well return in the future. Apart from how the Rick and Morty season 6 premiere teased this exact event, show co-creator Dan Harmon revealed to ComicBook.com that Evil Morty will definitely be back. Here's what Harmon said about the future of Evil Morty:
He just wanted to get beyond the Central Finite Curve, but we've written Season 7, and we're working on Season 8 right now — that's the only way for us to be able to stay on schedule — so I can say with 100% certainty that Evil Morty is coming back, but I can't give a schedule on that.
Rick and Morty season 6 is bound to reveal where Evil Morty ended up, his future plans, and hopefully his true origins as well. While Rick and Morty threatening to ditch canon and serialized storytelling in season 6 suggests otherwise, Dan Harmon confirmed that the show isn't dropping the character, who has become arguably the most beloved villain in the entire series. Besides, even if the show actually does abandon canon events, audiences can't just forget about Evil Morty, who is already being prepped for his return.
After finally finding and reaching a place in existence where Evil Morty can be free of any Rick's influence or design, there might be more than enough distance between C-137 Rick and Evil Morty to prevent them from crossing paths again, at least before Rick and Morty season 6. Indeed, when Rick fixed portal travel — and even promised audiences a return to his and Morty's usual shenanigans — it's easy to imagine how Rick can begin to make life harder once again for Evil Morty, who is unlikely to respond well to finding out that Rick is back to sowing chaos across the multiverse.
[ad_2]
File source
Washington News Post Latest Breaking News, Headlines
Washington News Post|| World News||USA News||Washington||
Celebrity News||Movie Review