Movie/tv News
Spider-Man: No Way Home Trailer Turned Into Epic Multiverse Poster Art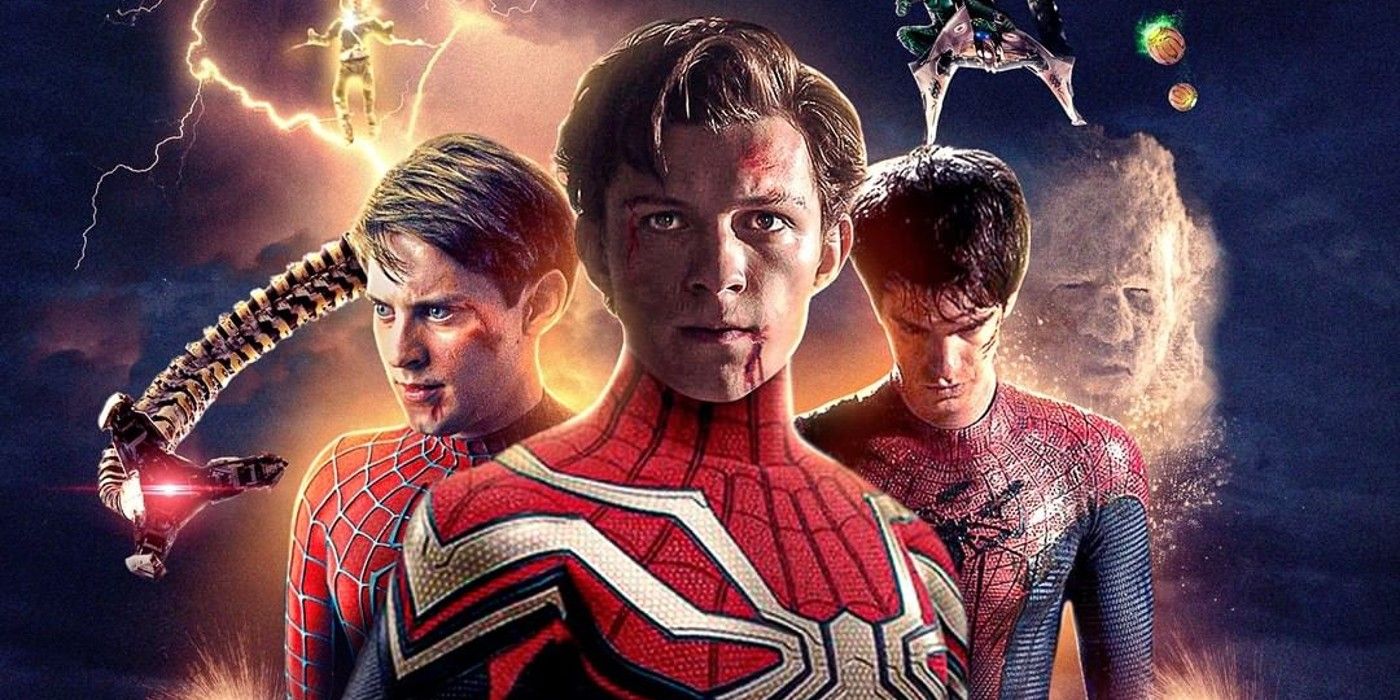 A fan-made digital artwork based on Spider-Man: No Way Home's latest trailer shows Tobey Maguire, Andrew Garfield, and Tom Holland in one epic poster.
The second Spider-Man: No Way Home trailer has inspired fans to come up with the coolest artwork, including one that turns it into an epic multiverse poster. As part of Phase 4 of the MCU, the upcoming film will be Tom Holland's third solo outing as Peter Parker. It also stars Zendaya, Marisa Tomei, and Jon Favreau who are all returning to reprise their roles. Benedict Cumberbatch joins the cast as Doctor Strange. The highly-anticipated superhero movie is scheduled to hit theaters exclusively on December 17.
Spider-Man: No Way Home picks up after the events of 2019's Far From Home, which ended with Mysterio (Jake Gyllenhaal) exposing Peter Parker's double life as Spider-Man. In the upcoming film, Peter asks Doctor Strange to conjure a spell to make his identity secret again. His magic breaks open the multiverse, inviting unwanted guests from alternate realities to enter their timeline. TSpider-Man: No Way Home's second trailer, which dropped recently, confirmed that at least five villains from previous Spider-Man movies will be hunting down Peter. This includes Willem Dafoe's Green Goblin, Alfred Molina's Doctor Octopus, and Jamie Foxx as Electro.
Related: Spider-Man: No Way Home Trailer Debunks A Tobey Maguire Theory
A new fan art cleverly turns the Spider-Man: No Way Home trailer into an epic multiverse poster. Created by Instagram user @AgtDesign, the poster has Holland front and center. He is joined by the two previous Spider-Man actors: Tobey Maguire, who originally portrayed the web-slinging superhero from 2002 to 2007, and Andrew Garfield, who took up the mantle for the 2012 and 2014 reboots. Below them are two portals connected by Doctor Strange's symbol in a cube that likely references Marvel's wish-granting Cosmic Cube. Also featured in the fan-made poster are the five villains who appeared in the trailer: The Green Goblin, Sandman, Lizard, Electro, and Doc Ock. Check out the digital art below:
Click here to view the original post
It's long been rumored that Maguire and Garfield will make a cameo in Spider-Man: No Way Home. Marvel has not confirmed this and the two actors have both denied their involvement. Despite this, fans who fervently waited for the film's latest trailer still hoped to spot signs of them. While this clearly did not happen, speculations are still rife.
For now, these No Way Home fan concept artworks help fans to visualize what it will be like to see all three Spider-Men actors share the big screen. With Spider-Man: No Way Home exploring the concept of the multiverse within the MCU, the film is expected to deliver shocking surprises. Because of this, fans aren't ruling out a crossover from Sam Raimi's original trilogy and the Amazing Spider-Man reboots. After all, nothing is impossible in the ever-expanding world of superheroes.
Next: No Way Home's Villain Explanation Supports Mysterio Return Theories
Source: Agt Design/Instagram
Spider-Man: No Way Home (2021)Release date: Dec 17, 2021
Doctor Strange in the Multiverse of Madness (2022)Release date: May 06, 2022
Thor: Love and Thunder (2022)Release date: Jul 08, 2022
The Marvels/Captain Marvel 2 (2023)Release date: Feb 17, 2023
Black Panther: Wakanda Forever/Black Panther 2 (2022)Release date: Nov 11, 2022
Guardians of the Galaxy Vol. 3 (2023)Release date: May 05, 2023
Ant-Man and the Wasp: Quantumania (2023)Release date: Jul 28, 2023
Spider-Man: No Way Home Posters Secretly Reference Maguire & Garfield Movies
About The Author
Washington News Post Latest Breaking News, Headlines
Washington News Post|| World News||USA News||Washington||
Celebrity News||Movie Review