Dallas
In Texas Jails, Some People End Up 'Lost in the System' for Months or More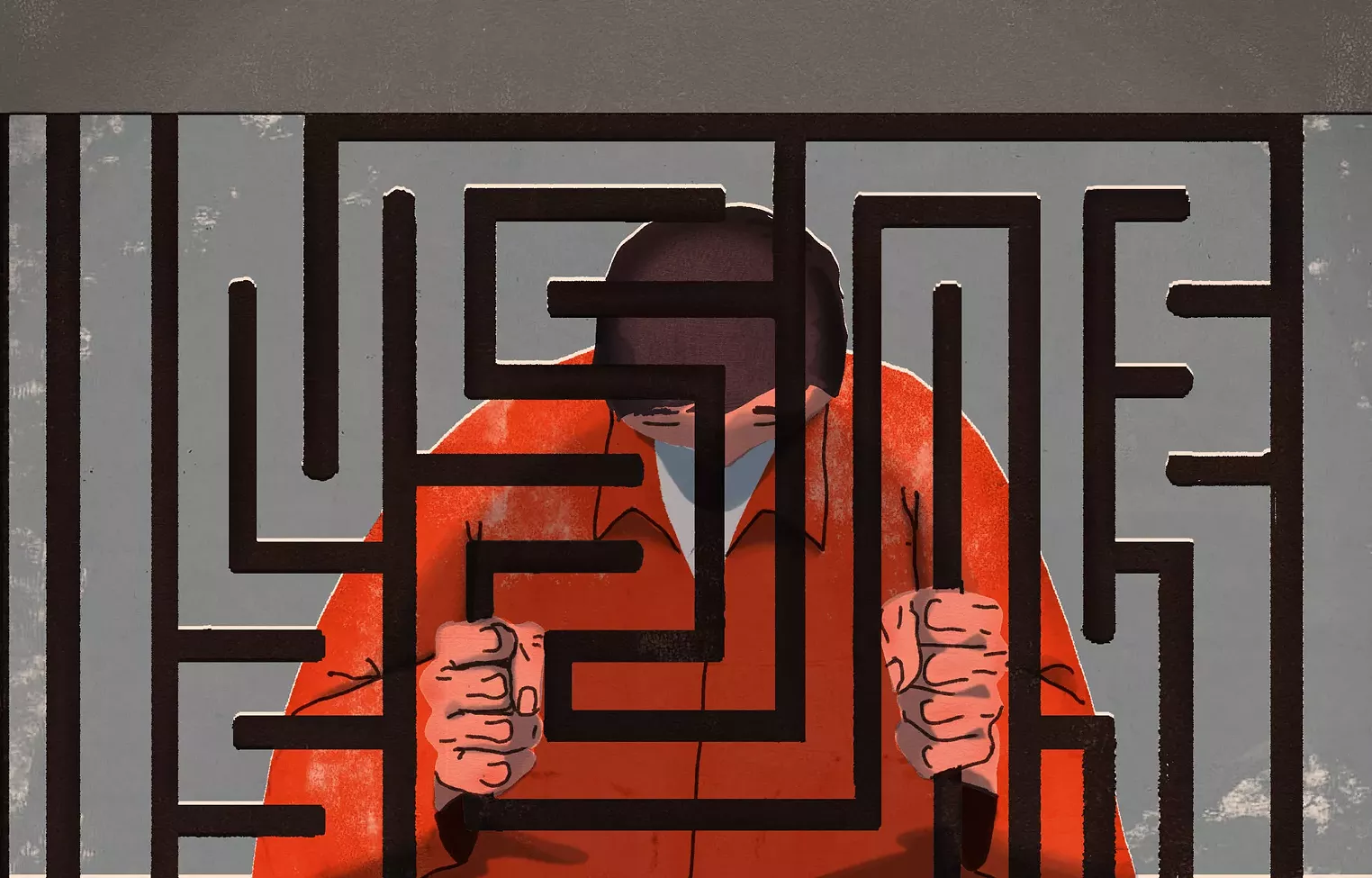 Finis Prendergast passed nearly three years in what he calls "the depths of hell." Some days were spent "literally starv ing on the floor." At other times, his surroundings became so rancid Prendergast could barely breathe.
"The air smells like urine," he told Vice in February. "I think they counted about 68 people right now in here, using the restroom, you know, six to eight times a day each, and we can't flush the toilets."
That was the scene in Harris County Jail when the facility lost water during this year's winter storms. At that point, Prendergast had been incarcerated for over two years.
The 42-year-old National Guard veteran was arrested on a robbery charge and booked into the Houston-area jail in November 2018. He turned down a plea deal, putting his faith in the justice system and a public defender. But the public defender never visited, and Prendergast's case was rescheduled seven times. By the time some supporters amassed enough money to post his bond in June, he had spent nearly three years in a jail that was, for much of that time, ravaged by overpopulation, understaffing and the coronavirus.
"I was just a number," he told the Observer by phone. "I try talking to people about what happened to me, and they don't get it. You try locking yourself in a closet for three years and see what that feels like. Nobody understands that."
"I was just a number." – Finis Prendergast

tweet this
Some people might. In fact, it's becoming increasingly common to spend more time in jail, whether because of a technical glitch, which recently happened to several incarcerated people in Lubbock, or because of delays caused by the pandemic.
"You got guys that are on misdemeanors that spend two, three, four months in jail," says Mason McCormick, a 42-year-old currently incarcerated in Dallas County Jail. McCormick, who has been in jail for roughly two years, says he spent the first six months of his incarceration without knowing the status of his case or having any idea as to when he could get out.
"The system was still a slow-moving machine before the pandemic, but it seems like now everything has grinded to a stop."
Conversations with attorneys, detention officers and incarcerated people reveal a disturbing truth: These stories are not rare. Although it's impossible to determine exactly how many people spend months in jail without knowing the status of their case or when they can hope to be released, interviews with experts and sources inside and outside Texas jails suggest this is a common occurrence. It appears to be both a failure and a feature of the criminal justice system.
"No one tells you anything," says Jessica Pishko, a writer and attorney who is working on a book about sheriffs. "You rely on a defense attorney to keep you in the loop, and in Texas, that can be hit or miss. You stay until you either take a plea, have a court date where they reset your bond or release you or dismiss the case, or when someone pays your bail."


And if no one on the outside is advocating on your behalf, there is an even greater chance of you getting "lost in the system," as one expert puts it.
"Many people don't have anyone standing up for them, making calls for them," says Krishnaveni Gundu, the co-founder and executive director of the Texas Jail Project. "People with mental illness or developmental disabilities are at the greatest risk of being lost in the system. As it stands right now, Harris County Jail is the largest confiner of people with mental illness, and when you see how much money is being poured into incarceration instead of systems of care, you realize that we're getting what we paid for."
Harris County Jail is also the largest jail in Texas. It has a dashboard with worrisome details about its 9,000 residents, including the fact that the average length of stay is 201 days. According to a data expert who asked to remain anonymous because they work for a jail, that length of stay is exceedingly common for Texas' larger jails, which includes the facility in Dallas. Jails are meant to be temporary holding facilities, and prolonged stays only intensify the overpopulation, health and safety issues that have plagued Texas jails throughout the pandemic.


The jail dashboards published by Harris and Dallas County often raise more questions than they can provide answers. For instance, Dallas County's dashboard includes a section entitled "Legal Process" for those who receive a bench warrant. The average length of stay for those engaged in the "Legal Process" is 249 days, which, according to multiple attorneys interviewed for this story, indicates that many defendants lack the adequate defense needed to advocate on their behalf and push for their case to be called. It also indicates the lack of urgency that pervades the entire criminal justice system. The sheriff's office did not respond to multiple questions and requests for comment about the lengths of stay incarcerated people endure in Dallas. As of this writing, there were 40 people in the "Legal Process" category and another 2,703 awaiting trial.
"People with mental illness or developmental disabilities are at the greatest risk of being lost in the system." – Krishnaveni Gundu, Texas Jail Project

tweet this
The other important question is how people end up getting lost in jail in the first place. Gundu finds herself increasingly drawn to these stories, and she has some theories.
"We began by focusing on women, and later people with mental illness and disabilities," she says of her organization. "It became very clear that cash bail and lack of sufficient defense were keeping people in jail longer."
Pishko notes that the sheriff bears some responsibility, too. After all, the sheriff's office is in charge of managing the jail.
"In Texas, a sheriff can't just let people in that category out," she says, "but they do and should know who is in jail and their last court date, and they are responsible for making sure you get to your court hearings. A good sheriff's officer sends notes to judges and defense counsel — who are often at fault, too — that says, 'Hey you have a client or case in here you haven't called. What's going on?' Then the judge can call the case and dismiss or whatever. It's a big deal when you are in jail because you're in jail."
Of course, Texas' heavily criticized reliance on cash bail also plays a significant role in keeping people incarcerated. Earlier this year, Gov. Greg Abbott signed into law the Damon Allen Act, a bill named for a Texas state trooper who was killed by a man out on bail. The new law prohibits release on personal or cash bond for people charged with a violent offense, but critics say it also harms any defendant who doesn't have easy access to thousands of dollars in cash.
"We want to see a process that nonviolent defendants that are presumed innocent don't have to linger and sit in jail if they don't have to," says state Rep. Ron Reyolds, a Democrat from Missouri City. "And I think that's what we want to see, and some comprehensive bail reform that hasn't happened yet in Texas."
Gundu is familiar with people needlessly lingering in jail. Via Zoom in November, she told the Observer she once helped someone who stayed in Harris County Jail for five years before their trial, and she says she hears about someone being lost in the system roughly once a week. An experienced criminal defense attorney interviewed for this story says the same thing, and multiple detention officers told the Observer they hear about it roughly once a day.
Emmanuel Lewis, a detention officer, says he has developed a skin condition called vitiligo because of the stress of his job. The illness, which causes blotches and skin discoloration, forced him to take a leave of absence from work, during which time he has been calling for significant reform. The jail remains understaffed, he says, and his top priority is bringing federal monitors to the facility.
"Staff and inmates have no place to turn," he says, "and federal monitors will help provide checks and balances."
He may have a point. Federal monitors were recently deployed to New York City's infamous Rikers Island jail, where they uncovered an abusive culture that included "a high level of uses of force, dangerous incidents, and ongoing collapse in basic jail functions."
"Staff and inmates have no place to turn, and federal monitors will help provide checks and balances." – Emmanuel Lewis, detention officer

tweet this
Still, New York's Board of Corrections has yet to take any significant action in response to the abuses uncovered by those monitors, and 14 people have died at the jail (including five by suicide) in 2021 alone.
Lewis says he is motivated by the prospect of making his workplace a more bearable environment, and he felt called to act after two of his fellow detention officers contracted COVID-19 and died earlier this fall. According to him and three detention officers who corroborated his story, the jail is dangerously understaffed, and detention officers are often forced to work multiple overtime shifts in the same week with little to no warning about which parts of the jail are under quarantine.
But Dallas County Jail isn't the only facility grappling with staffing issues.
According to multiple people familiar with the agenda and discussions at the most recent meeting of the Texas Commission on Jail Standards, multiple jails that had fallen out of compliance were complaining about the lack of adequate staff to handle overpopulation. As Gundu notes, there is a direct correlation between overpopulation (or the lack of adequate staffing) and the treatment of incarcerated people. If jails weren't so overpopulated and understaffed because of cash bail and poor defense, she says, conditions wouldn't be so horrid.
And people wouldn't linger, either.
Over the last two years, McCormick has seen other incarcerated people experience the same confusion he had in his first six months in Dallas County Jail.
"Usually, six to eight months is enough to go through the whole procedure," he says, "but there have been guys that have been here two years. The communication has always seemed off."
Meanwhile, Prendergast is finally out, but some days he thinks life after jail is just as hard as life behind bars.
"I can't leave the state, so I don't know when I'll see my mom or dad again," he says. "The life I'm living right now, I don't know how to manage."
He's taken a job hanging Christmas lights, which helps, but he spends most days wracked by anxiety. Those three years made him forget how to live in the real world, he says, and he still feels like he's living a nightmare that he can't wake up from.
One day recently, while he was driving to work in his dilapidated Nissan Quest, he started ruminating on all that has happened since his arrest.
"I think this pandemic has changed people," he says. "I think they care even less. But they have to know that the people behind those walls, the people in those cages, we're human beings, too. We are human beings. And every time you put one of them on the backburner, you're changing a human life."
Washington News Post Latest Breaking News, Headlines
Washington News Post|| World News||USA News||Washington||
Celebrity News||Movie Review