Los Angeles
Two dead following four-car crash caused by group of suspects fleeing from police in South LA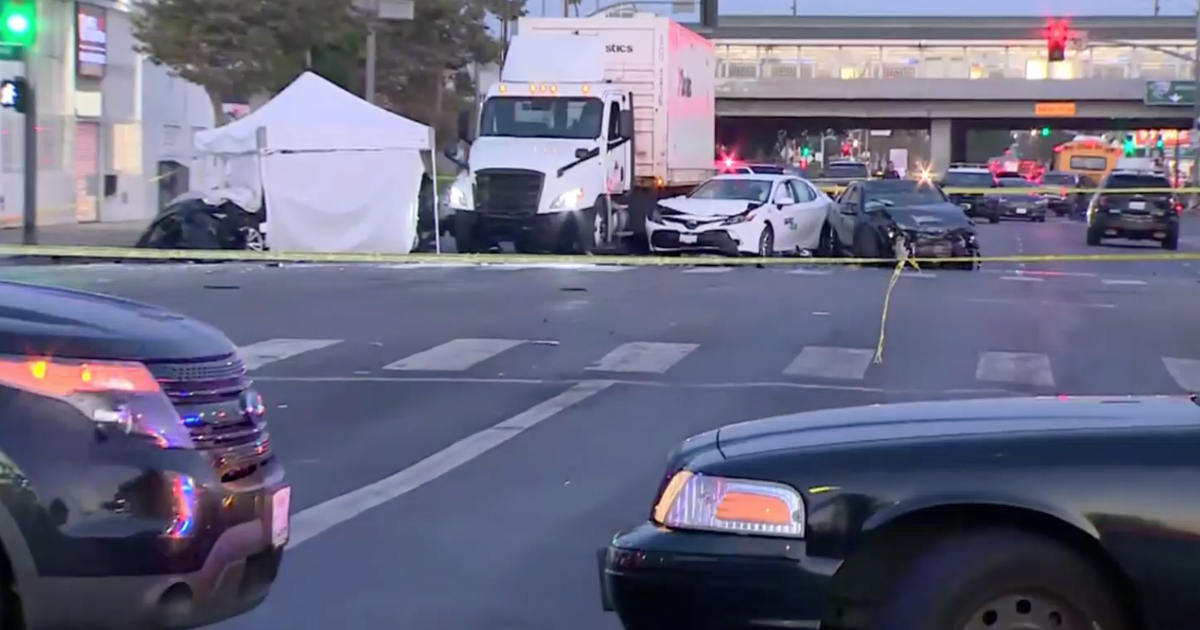 [ad_1]
Two people were killed in an early morning crash as a pair of suspects attempted to flee from police in South Los Angeles on Friday. 
The crash happened just before 4:15 a.m. on W. Manchester Avenue, after Los Angeles police attempted to make a traffic stop the driver of a gray Cadillac. The driver immediately fled from the area, eventually crashing into at least three other cars after running a red light near the intersection of Manchester Avenue and Broadway near the Green Meadows neighborhood.
Two people, a man and woman in their 30s, were killed during the crash and pronounced dead the the scene. Another person suffered minor injuries but did not require a trip to the hospital. 
On Monday, authorities identified the victims as 38-year-old Jamarae Keyes and 35-year-old Janisha Harris.
Police made it clear that "this was never a pursuit," stating that the entire incident began when they attempted to pull the suspects over for traveling at speeds well over the speed limit. 
"I heard the car speeding and when it got to Broadway it ran into the white car and the other car, he slammed into that," said one man who works in an emergency room. He witnessed the collision firsthand. "They was going like 80, 90 miles per hour." 
"Whichever officer was driving, I think he made a determination to stop and he slowed down," the witness said. "Then they started speeding up."
Police disclosed that after the crash, all three suspects inside of the vehicle attempted to flee on foot, but surrendered shortly after and were taken into custody. One is said to have suffered an injury to the lower body in the crash.
The main suspect, driving the vehicle, was said to be a male in his 20s. The other two suspects were detained pending further investigation.
They noted the unnecessary loss of life that resulted from the collision. 
"That's like a lot of us right? Going to work, getting our day started, you're obeying all the traffic laws, you have a green light and the next thing you know your life ends," said LAPD spokesperson Jeffrey Lee. "It's devastating."
Authorities have ordered a toxicology test to determine whether drugs or alcohol were a factor in the crash, and are working to determine whether any of the occupants of the Cadillac were involved in a crime prior to, since they were driving so erratically. 
[ad_2]
File source
Washington News Post Latest Breaking News, Headlines
Washington News Post|| World News||USA News||Washington||
Celebrity News||Movie Review